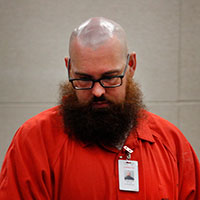 Jones' quest for new legal team may delay start of murder trial
STORY BY LISA ZAHNER

If accused killer Michael David Jones succeeds this week in his quest for new a defense attorney who isn't urging him to take a plea bargain, it's safe to say that jury selection for Jones' trial on first-degree murder charges will not begin on Oct. 1 as planned.
Last week, after a hearing where Jones' three-attorney legal team was clearly outgunned by State Attorney Bruce Colton's prosecutors, Jones filed a hand-written, pro se motion to fire his appointed attorneys from Public Defender Diamond Litty's office and get new representation.
Jones claims his lawyers have been manipulating his family members and their contributions to his jailhouse commissary account to pressure him to accept a plea deal.
"Defendant's counsel do not wish to have a trial. Defendant and his counsel vehemently disagree on his trial strategy," Jones wrote in the seven-page motion. "Defendant's counsel strongly wish to resolve this matter via plea bargain contrary to their client's wishes. There has never in fact been a plea offer."
After qualifying as indigent, the former financial advisor at PNC Wealth Management on Ocean Drive in Vero Beach was assigned a team of three attorneys to handle his defense in the strangulation slaying of 26-year-old Diana Duve in June 2014.
Assistant Public Defender Stanley Glenn, Assistant Public Defender Dorothy Naumann and Assistant Public Defender Shane Manship have all been working Jones' case, with Glenn in the lead chair.
The State Attorney's Office confirmed that as of Monday afternoon, no plea deal had been offered to the defense. Judge Dan Vaughn was set to consider Jones' request to change attorneys this Thursday morning. Jones has the right to represent himself and try to convince the judge how and why he has lost confidence and trust in his defense team.
In his motion, Jones said he wanted to testify at a pre-trial hearing and he was told he was not permitted to do so, but found out later that he could have testified. Jones also claims that he was denied the opportunity to have outside research done to help prepare his defense. Jones, who holds a law degree, argues that he wanted to be more closely informed about and involved in his own defense.
"Defendant's relationship with his counsel is tenuous at best, and he no longer trusts them for a number of reasons," Jones said in his motion.
If convicted by a unanimous jury, Jones could face the death penalty for the pre-meditated killing of his girlfriend Duve, a nurse at Sebastian River Medical Center who had been in a tumultuous romantic relationship with Jones.