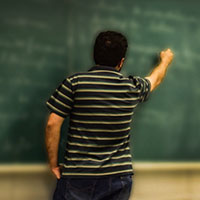 More teachers, fewer subs in classrooms as new school year starts under new leader
STORY BY FEDERICO MARTINEZ

For the first time in at least three years, the school district started the new school year on Monday with a permanent fulltime teacher assigned to each classroom. That's a far cry from recent years when the district utilized as many as two- to three-dozen substitutes instead of hiring permanent  teachers in an effort to save money.
The new strategy is one of many changes implemented by Interim Superintendent Susan Moxley, who vowed when she was hired May 24 to improve student learning – in part by equipping classrooms with full-time, qualified teachers.
Substitute teachers are poorly paid – $75 a day is the base rate in the IRC school district – and often lack the education, training or experience of regular teachers. Another drawback to subs that come and go is a lack of consistency in teaching methods and classroom expectations that can undermine children's success.
"We want regular teachers in the classrooms so that they can set the expectations we have for students," Moxley said. "Having a full-time teacher in the classroom is better for the students because they can begin forming relationships on the first day."
Board Chairwoman Laura Zorc said she is pleased that the district is using fulltime teachers instead of substitute teachers,.
Moxley worked feverishly right up until last week to fill dozens of vacant teaching positions.
"I want to reassure the board that we are working fast and furious to make sure we have a teacher in every classroom," she told the School Board.
Former Superintendent Mark Rendell, who was hired in 2015 and left under a cloud in May, started the trend of using substitute teachers, because he saw that strategy as less expensive than hiring new full-time teachers, Zorc said.
Short-term substitute teachers who have associate degrees are paid a daily rate of $75 here. The pay goes up to $95 for short-term subs who have a bachelor's degree or above. Teachers with a bachelor's who work 20 or more consecutive days in the same classroom are bumped up to $125 per day.
By comparison, the average yearly salary for full-time teachers is $48,000, or about $270 per school day in a 180-day school year, and also get  fringe benefits like health insurance that subs do not receive.
Moxley was unable to say how much more it will cost the district to employ full-time teachers instead of substitutes during the 2019-20 school year, but she believes the cost is well worth it.
Thirteen teachers were not in classrooms on Monday due to illness or personal reasons.
"Several teachers were absent Monday due to illness – that's not unusual," Moxley said. "That's 13 out of 1,100 teachers – that's not a bad situation."