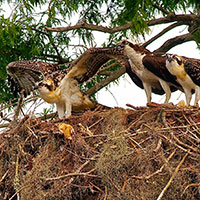 Number of osprey nests at Blue Cypress Lake down from last year
STORY BY SUE COCKING

The total number of osprey nests counted at Blue Cypress Lake in western Indian River County this spring and summer is higher than five years ago, but lower than 2018 when a toxic blue-green algae bloom was first detected in the once-pristine water body.
Volunteers from the Pelican Island Audubon Society in Vero Beach have been counting the raptors' nests annually in the 6,500-acre lake since 2014 to help gauge the health of one of the world's largest osprey nesting populations. This year, they counted 300 occupied nests in the cypress trees that gave the lake its name – down from 327 in 2018. The volunteers also found the highest number of non-occupied nests ever – 15 to 17 believed to have been destroyed or damaged by storms.
"Last year was a banner year before the Microcystis was noticed," Audubon president Dr. Richard Baker said, referring to the toxin emitted by a blue-green algae bloom in the southern part of the lake in the summer of 2018. The 2018 blue-green algae bloom was the first of its kind detected in the remote lake and it produced toxin levels hundreds of times higher than are considered safe for human contact. 
No microcystin toxin has been found in Blue Cypress so far this summer, but low levels have persisted since last winter in the nearby Headwaters Lake (also known as Fellsmere Water Management Area), connected with Blue Cypress by a canal.
The Florida Department of Health warned boaters, swimmers and waders on July 15 to avoid contact with the water in Headwaters.