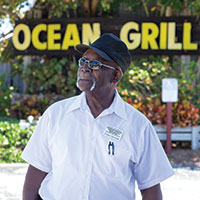 Ocean Grill icon, 'Pops' Mitchell, passes at 83
STORY BY RAY MCNULTY
Photo: Ocean Grill icon, Eddie 'Pops' Mitchell.

Eddie "Pops" Mitchell hadn't returned to work since a customer's car ran over his foot in January, but, even at age 83, the Ocean Grill's longtime parking attendant refused to retire.
"He enjoyed the job," said Mitchell's son, Wilbert, "greeting the customers when they arrived and helping them park, then talking to them when they came out. That was tough on him, not being able to go to work.
"He had been out for a few months, but he was definitely planning to go back."
Two Sundays ago, however, the younger Mitchell stopped by his father's home to check on him and found him lifeless in his recliner.
"He was gone," Mitchell's son said, adding that Mitchell had not been ill, and his death was unexpected. "He must've died in his sleep."
Last week, the Ocean Grill announced Mitchell's passing in a Facebook post that told readers he had worked at Vero Beach's iconic seaside restaurant since 1969, starting as a cook and becoming a pastry chef before moving to the parking lot in 2001.
The post was accompanied by a Vero Beach 32963 story and photograph published in March 2015 about Mitchell's career at the restaurant. Ocean Grill owner Charley Replogle said Mitchell was "so proud of that article" that he had a copy of it framed and mounted inside the restaurant's guard shack.
Mitchell's family members said the newspaper article will be displayed at the "celebration of life," scheduled for noon Saturday, Aug. 3, at St. Peter's Missionary Baptist Church in Gifford.
"My dad was actually a member of the Community Missionary Baptist Church in Gifford, but his church isn't big enough for the turnout we're expecting," Mitchell's son said. "We've been hearing from a lot of people expressing their condolences.
"Charley has been telling a lot of the restaurant's customers, so we're hearing from a lot of beachside people, too," he added. "Everybody who knew my dad knows he was a good man."
Replogle said Mitchell's five decades at the Ocean Grill, particularly his 17-plus years managing its for-customers-only parking lot, made him more than a familiar face to the restaurant's regulars.
For three generations of the Replogle family's ownership, Mitchell's presence was part of the Ocean Grill experience, providing the initial impression for diners visiting the restaurant for the first time.
"Eddie was a beloved local legend," Replogle said. "He was a loyal and honest employee, generous in spirit and tough when he needed to be. He was a fixture here, and he's going to be missed by all of us."
Into his 80s, Mitchell worked what amounted to a full-time schedule, arriving at 8:30 each morning to make sure the lot was clean and keep out would-be trespassers, and tending to restaurant customers until 3 p.m.
Some days, he would work a double shift, taking only a 90-minute break before returning to his guard shack at 4:30 p.m. and staying past 11 p.m. However, Replogle said Mitchell was working only days in the months before his foot injury.
"We had cut back his night shift," Replogle said, "because he was here too late, and we didn't want anything bad to happen to him."
Although Mitchell was physically able to return to work this summer, Replogle said management wanted to wait for the weather to cool before bringing him back.
For those who don't know: Mitchell missed only three weeks of work after undergoing triple-bypass heart surgery in 2009.
Born in Ashford, Ala., Mitchell was 21 when he left his hometown in 1958 and moved to Vero Beach to work in the citrus industry, first in a packing house and later picking fruit in a grove.
In between, he spent five years milking cows at a local dairy. He also worked on the construction crew that built the John's Island Golf Club's South Course.
He then took a job at the Ocean Grill, working as a dishwasher and clean-up man for a year before asking if he could train as a cook.
"They asked me how long I'd stay if they trained me," Mitchell told Vero Beach 32963 for that 2015 story. "I told them, 'Until you fire me.'"