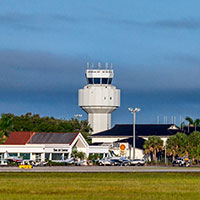 Vero Beach airport seeking go-ahead for customs facility
STORY BY NICOLE RODRIGUEZ

Local officials last week rolled out the red carpet for U.S. Customs and Border Protection agents at the Vero Beach Regional Airport in an effort to convince the federal government to approve a customs facility there – an addition they say would make life more convenient for Vero-bound international travelers arriving on private jets and could attract more airlines and international flights.
Right now, travelers headed to Vero Beach who are flying in from abroad have to land at Treasure Coast International Airport and Business Park in Fort Pierce – the closest airport with a customs post – and then take off again and fly to Vero, a procedure that adds time and expense to each trip.
Vero Beach is the lone regional airport in the area to lack a customs facility, officials said during the Aug. 15 tour with two CBP agents. Stuart, Fort Pierce and Melbourne all have customs facilities.
An estimated 25 percent of air traffic that clears customs in Fort Pierce goes on to Vero Beach, Indian River County Commissioner Tim Zorc said during the visit.
Vero Beach Councilman Harry Howle – who was present for the tour, along with City Manager Monte Falls – first reached out to then Gov. Rick Scott in October 2018 requesting state support for the addition. The facility's absence has hindered growth in the area and inconvenienced international charter flights, Howle told Scott.
"The lack of a customs facility is a great deterrence to potential business and leisure travel opportunities to Canada, the Bahamas and Latin America," Howle, who served as mayor at the time, wrote on Oct. 11, 2018. "It also impacts charter and private flight operations that are based at VRB because there is a significant cost associated with landing at another location to clear customs before returning to Vero Beach."
In response, Scott penned a letter to then Customs and Border Patrol Commissioner Kevin K. McAleenan supporting the city's request.
"The Vero Beach Regional Airport currently serves the Treasure Coast and is a vital part of Florida's growing economy," Scott wrote McAleenan on Nov. 19, 2018. "Allowing direct international flights into the airport will substantially enhance the airport's role in the city of Vero Beach and the state of Florida as a critical link in our global transportation system."
Corporate Air Inc., which caters to private flights with a ramp large enough to handle a Boeing business jet and a 4,200-square-foot private terminal, has offered to pay for the customs facility – which could cost upwards of $2 million.
"My customers are inconvenienced by flying from other countries and landing in Fort Pierce," said Corporate Air founder and owner Rodger Pridgeon. "It's very costly to start up a jet and fly from Fort Pierce to here. Fort Pierce is distant from hotels and it's an inconvenient area. They'd rather come into Vero."
He added that Corporate Air would like to run its own scheduled flights to and from the Bahamas, which can only happen if a customs facility is built on the premises. Roughly 30 to 40 jets visit Corporate Air each day during season, while around a dozen visit daily in the summer, Pridgeon said.
If built, the facility would vet American citizens returning from foreign counties to confirm their identities, charge duties on certain merchandise, and look for agricultural and narcotic contraband, according to Jennifer Connors, a CBP official from the West Palm Beach office of field operations.
Non-U.S. citizens would be required to provide proper documents proving their identities and that they have no legal issues barring them from entering the U.S.
The approval process for a facility could be complete in months or take years, Connors said.
"It all goes through the U.S. Customs and Border Protection vetting process and our safety and security designs," Connors said during her visit.
Local officials believe a customs facility would bring economic benefit to Vero Beach, leading to more air traffic and visitors. The airport currently has one airline – Elite Airways – with scheduled flights to three domestic destinations, said Eric Menger, airport director. Around 200 aircrafts are based at the airport, which handles roughly 120,000 flights a year, he said.