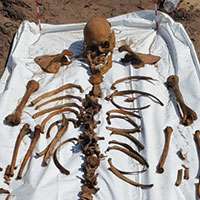 'Very old' human bones found at condo construction site in Shores still being studied by experts
STORY BY LISA ZAHNER

Human remains found at the Blue at 8050 Ocean condo construction site in Indian River Shores on June 5 are still being studied by scientists, but the Shores Public Safety Department has been told "the preliminary report regarding the bones is that they are very old and the person, more than likely, died of natural causes.
"The final report will be released in a few weeks after they get done dating the bones," Shores Public Safety Chief Rich Rosell said.
"Very old" is no more specific than the assessment of the crime scene specialists who carefully unearthed the near-intact human skeleton and handed it over to the 19th Judicial Circuit Medical Examiner and state archaeologists. "They still believe it's a very old skeleton," Rosell said.
"One more thing – he was young to middle age and male," Rosell added.
Initial speculation was that the remains might be those of a sailor from the 1715 Spanish treasure fleet that went down offshore from Vero, or maybe even a pirate.
About seven miles up the island is a registered historical site recognizing a camp of sailors who survived shipwrecks caused by a hurricane.
Rosell said he has nothing in writing yet and no ballpark guess even as to what century the bones are from.
"They have not released any paperwork to us. We are going to keep that section of the construction site closed until we get the final report."
Except for the staked-off immediate area where the remains were found, the site was released in June for developer Yane Zana to resume construction of his luxury condo community.