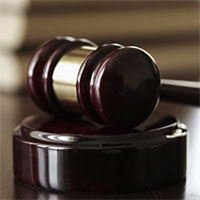 Accused reality TV fraudster seeking reduction in bond
STORY BY LISA ZAHNER

Christopher Todd Delaney wants to go home for Christmas.
Incarcerated since his July 3 arrest on charges that he bilked investors out of more than a half million dollars they invested in a reality television show called "JetSet" that never got off the ground, the accused fraudster has filed a motion to have his $150,000 bond reduced, claiming it is excessive.
Delany, who managed two firms on Vero's Ocean Drive, wants Judge Dan Vaughn to reduce his bond to a "reasonable amount," the Nov. 27 motion states.
But with only $1,700 in declared assets and $1,100 monthly Social Security checks as income, it's unclear where 63-year-old Delaney would get the funds or security to bond out, unless the bond is reduced dramatically. 
Vaughn is set to hear Assistant Public Defender Justin Barenborg's arguments for the bond reduction next Tuesday.
Even if the bond is reduced and Delaney can come up with the means to bond out, there could be another hurdle. Delaney is charged with one felony count of fraudulent transactions, falsification or concealment of material facts; and one count of first-degree grand theft, pursuant to a scheme or course of conduct.
In cases when the theft of a large amount of funds is involved and a defendant attempts to put up assets or funds to get out of jail, the court typically holds a hearing to consider whether the funds being put up for the bond are ill-gotten gains.
"We will ask him about the source of funds and object if it appears he's using stolen money to bond out," Assistant State Attorney Lev Evans said, describing the general procedure in economic crime cases.
If Delaney cannot post bond before the holidays, at least his time awaiting trial might have gotten shorter after a hearing last week in which Evans asked Vaughn to put defense counsel Barenborg on a schedule to move the case forward more quickly.
The two victims Delaney is accused of stealing from are both retirees, and Evans pointed out that in cases involving elderly victims the court may insist on timely prosecution. Section 106 of Florida Statute 825 addressing crimes against the elderly states, "The presiding judge, after consideration of the age and health of the victim, may advance the trial on the docket."
One investor, a part-time Port St. Lucie resident, entrusted Delaney with $280,000 from the sale of Citicorp stock he'd earned over his career with the company.
Another investor rolled $249,000 out of her 401(k) and gave it to Delaney to invest in his JetSet project. Court records show Delaney had hoped to raise an initial $3 million to get the JetSet project going. His pitch included a promise of 10 percent annual interest payments, the FBI investigation found.
Delaney lived in White Plains, N.Y., but had become known in Vero for giving investment seminars, after supposedly working as an investment advisor for more than 20 years. He allegedly dipped into his base of high-end clients who trusted him to seed the JetSet project, records show.
At Vaughn's urging, Evans and Barenborg informally agreed last week to make a good-faith effort to bring the case to trial in the spring of 2020, pending an order from the judge setting a definite timeline.
That seemed to light a fire under the defense, as the very next day Barenborg filed notice that he'd scheduled depositions of six potential witnesses on Jan. 6, and nine more people on Jan. 13.