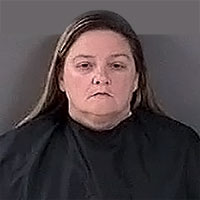 Bookkeeper accused of stealing to fund cocaine habit
STORY BY LISA ZAHNER
Photo: Andrea Lindsay

A bad cocaine habit led a trusted 17-year employee of Banov Construction, a close-knit firm that designs and builds luxury homes in Orchid Island and other high-end communities, to forge 48 checks and steal nearly $70,000 from her employers, according to the allegations against a Sebastian woman.
As company bookkeeper, Andrea Lindsay, 44, had full access to all Banov Construction's bank accounts, court records say, so it took some time for the extent of the year-long fraud to unravel.
It was only after Lindsay was out of the office and in a drug rehabilitation facility that the full tally of missing money came into clear view.
Vero Beach police were called to the offices of Banov Construction on August 16 after architect and co-owner Amy Banov discovered the initial forged checks dating back to April 2018. Lindsay was paid by direct deposit, so there was no legitimate need for paper checks made out to her, the warrant affidavit states.
"Ms. Banov said Ms. Lindsay was writing checks to herself for various amounts and forging Robert Banov's signature," the affidavit states.
Police say Lindsay presented checks to Robert Banov out of numerical order and that's what triggered some red flags. When Amy Banov showed police photocopies of some of the checks that were cashed at CenterState Bank, court records say the signatures "were different than Mr. Banov's legal signature."
"Mr. Banov said he didn't sign or authorize any of the checks Ms. Lindsay cashed. He also said that he wrote her some personal checks from his private checking account and that she changed the amount payable and cashed them," police reports say.
Records show Amy Banov told police Lindsay "became sick last year and has since become addicted to powdered cocaine."
Vero Beach Police Department detectives, including Det. Lee Evans who led the Ira Hatch fraud investigation, and Det. Kyle Edder, worked with the Banovs to collect and assemble documents related to the alleged fraud. Detectives went to the rehab where Lindsay was staying in Fort Pierce and attempted to interview her, but she was uncooperative, referring them to her attorney.
However, before she entered rehab, Lindsay left behind incriminating statements of guilt that could possibly be used against her if entered into evidence in a trial.
"Mr. and Mrs. Banov said they confronted Ms. Lindsay about the scheme on Aug. 14, 2019 and she confessed to forging the checks and cashing them at CenterState Bank. I was provided a copy of the confession letter she signed. The confession was also witnessed by another employee, Scott Taylor," the affidavit states.
"Another letter was signed by the parties stating that Ms. Lindsay owes Banov Construction $55,610 and she intends to pay them back," records show.
The affidavit states that the Banovs were advised, after "consulting various people on the situation" to file a police report, and that led Vero detectives to open their investigation in August. As more bank documents came in and were compiled, the detectives were able to get an arrest warrant, signed on Nov. 25 by Judge Nicole Menz.
Lindsay has been initially charged with the first-degree felony of Organized Fraud of $50,000 or more, the third-degree felony of Forgery of a Bank Check, and the third-degree felony of Uttering a Forged Instrument.
Lindsay was arrested on Dec. 10 and is now out of jail on $30,000 bond. Her arraignment is set for February when she'll be asked to enter a plea.
Assistant State Attorney Michelle McCarter is prosecuting the state's case and Vero defense attorney Bobby Guttridge signed on last week to represent Lindsay.  He did not respond to calls and messages requesting comment about the case.