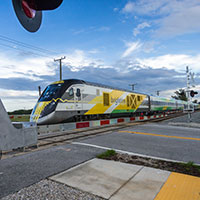 County's bid to block train near end of the line
STORY BY GEORGE ANDREASSI

Indian River County's federal court challenge against the Virgin Trains USA passenger train project may have reached the end of the line.
The U.S. Circuit Court of Appeals for the District of Columbia Friday agreed with the district court judge who threw out the county's complaint challenging the train project's federal financial and environmental approvals.
"The bottom line is that the Final Environmental Impact Statement for the All Aboard Florida (Virgin Trains USA/Brightline) project clearly complies with the requirements of National Environmental Policy Act," wrote Senior Circuit Judge Harry T. Edwards for a three-judge panel.
Indian River County leaders will review the court order, consult with their legal team and decide whether to take the appeal all the way to the U.S. Supreme Court, said county spokesman Brian Sullivan.
County Commissioner Tim Zorc said he wants to hear County Attorney Dylan Reingold's analysis of the appellate decision before deciding whether he supports seeking high court review.
"We're disappointed," Zorc said. "We'll review our options.
"That will probably be something we'll have to have a discussion on; looking at what other options are out there."
A Virgin Trains spokesman, Michael Hicks, acknowledged the court victory but declined to comment on the ruling or what it means for the project.
A loss at the federal appellate level is frequently tantamount to losing a case because the U.S. Supreme Court reviews so few appeals. Just 100-to-150 of 7,000 appeals submitted annually are chosen by the high court, its web page says.
Indian River County has spent nearly $4 million on court cases challenging various aspects of the passenger rail project originally called All Aboard Florida and later rebranded Brightline and Virgin Trains USA.
The death knell for the federal court challenge could mark the end of hopes to block Virgin Trains' $2.4 billion construction of high-speed passenger rail tracks from Orlando to West Palm Beach through Indian River County.
Railroad construction crews worked along the tracks in Sebastian this month between the Roseland Road railroad crossing and the 93-year-old St. Sebastian River Railroad Bridge.
VTUSA plans to start construction on a new 1,625-foot-long railroad bridge across the St. Sebastian River in 2020.
The 30-month-long project includes impact driving of sheet pile wall elements which area residents fear will damage their homes.
VTUSA started service between West Palm Beach and Fort Lauderdale in January 2018 and added Miami that May.
By the end of 2022, VTUSA plans to run 34 passenger trains per day between Orlando and Miami, with speeds reaching 110 mph in Indian River County, though that timeframe has repeatedly been pushed back.
There are 23 railroad crossings in Indian River County with several in downtown Vero Beach within 20 feet of heavily traveled U.S. 1. All are scheduled for safety improvements to accommodate passenger trains traveling 80-to-110 mph.
Still pending is the county's state lawsuit asking a judge to declare that Indian River County is not required to reimburse VTUSA and Florida East Coast Railway for the construction and maintenance of railroad crossings for higher-speed trains.
Florida East Coast Railway is leasing tracks to VTUSA between Miami and Cocoa. Virgin Trains is building new tracks along State Road 528/Beachline Expressway from Cocoa to Orlando International Airport.
Indian River County started fighting the passenger rail project in earnest late in 2014 after it hired the Bryan Cave law firm and began filing legal actions.
In the just decided federal appeal, Philip Karmel, a Bryan Cave senior partner, argued the case and filed the briefs for Indian River County.
The case started in February 2018 when Indian River County filed a federal complaint claiming the U.S. Department of Transportation improperly issued $1.15 billion in tax-exempt bonds and conducted an inadequate environment review of the passenger rail project.
U.S. Judge Christopher Cooper dismissed the case in December 2018 ruling U.S. DOT met the requirements for approving the tax-exempt Private Activity Bonds and the Environmental Impact Statement for the passenger rail project.
The Dec. 20 appellate court order backed Cooper's decision to the hilt.
"The District Court's opinion, which offers an impressively thorough and thoughtful examination of the record, and which we endorse, is more than sufficient," Edwards wrote for the court.
"We hold that DOT permissibly and reasonably determined that the project qualifies for tax-exempt PAB financing," Edwards wrote.
"We also hold that the Environmental Impact Statement for the Project adheres to the commands of National Environmental Policy Act."