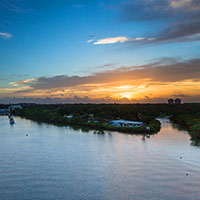 Overall health of lagoon seen slightly improved over last year
STORY BY SUE COCKING

The Indian River Lagoon's overall health has improved a little bit since a baseline was established last year, and the Vero Beach area has some of the cleanest water along the estuary's 156-mile-long length, but water quality and seagrass cover remain poor in much of the waterway.
That's the gist of the Marine Resources Council's latest health report card for the lagoon, which incorporates data collected by state and local regulatory agencies.
"It got a little better from how it was . . . but when you hit rock bottom you have nowhere to go but up," said Dr. Leesa Souto, MRC executive director.
Conditions revealed by the council's inaugural health assessment were "abysmal," Souto said when that report was released a year ago.
Water quality scores for each of the lagoon's 10 regions, which together stretch from New Smyrna Beach to Jupiter, were calculated by measuring water clarity, the amount of nitrogen and phosphorous in the water, and the amount of algae present.
Habitat scores were based on seagrass cover because seagrass provides the foundation for the lagoon's food chain and ecology.
Possible scores for water quality and habitat condition range from zero to 100. A score below 70 is deemed poor; below 60, very poor; and below 50, extremely poor.
The worst water quality scores were found in the Banana River and in southern Brevard County, while the best scores came in Indian River and St. Lucie counties, in the stretch of the waterway between the Sebastian Inlet and the Martin County line.
The Banana River got a 66, "poor," while the Indian River and St. Lucie county region scored an 87. That "good" number was up 9 points from last year when the same area scored 78.
Habitat scores ranged from a low of 16 in the northern half of Martin County to a 69. No portion of the lagoon scored better than poor when it came to seagrass cover.
Souto attributed the improvement in Indian River County waters in part to the county's innovative, new algal-scrubbing Osprey Acres Stormwater Park that uses algae to pull pollutants out of canal water before it flows into lagoon, and also to living shorelines of mangroves and oyster mats put in place by the county and conservation groups.
"They've done a lot of things right," Souto said of the county.
Despite improvements in water quality in the Vero area, however, seagrass cover here remained "very poor," with a score of 58, up two points from last year.
"Still a failing grade," Souto said.
The new report card includes more data than the first – including water quality measurements from both the St. Johns River and South Florida water management districts.
Souto added that no segment of the lagoon has "met the regulatory targets" for reducing pollution and improving habitat.