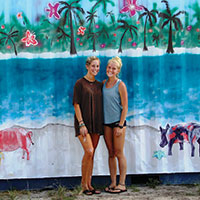 St. Ed's students keep aid flowing to Bahamas in colorful cargo container
STORY BY FEDERICO MARTINEZ

Three months after Hurricane Dorian devastated the northern Bahamas, the headlines that focused attention on the plight of our island neighbors have faded – but students at St. Edward's School are keeping the aid flowing.
Every couple of weeks, a large steel cargo container goes back and forth between Fort Pierce Inlet and the islands on various barges, carrying needed supplies and equipment to Bahamian communities trying to rebuild after the monster storm.
"Many of our families spend their summers in the Bahamas, and have friends and loved ones over there," said St. Edward's Director of Communications Monica Jennings.  "Students wanted to do something to help their friends on the islands and it has transformed into a community effort."
The effort got underway in September when a group of students – supported by their families, friends and teachers – raised more than $6,000 to purchase the cargo container in early September.
Student artists Catalina Pratt and Chris Maguire used 200 cans of spray paint to decorate the container with colorful island images, and added the school's flag to the design, transforming it into a functional work of art.
"My family goes to the Bahamas a lot, and I have close friends there," said Pratt, who jumped at the opportunity to be involved.
Maguire, who was born on Grand Cayman, said working on the project was very gratifying for her.
"This was near and dear to my heart," she said. "When I was very young a hurricane struck my island and it was devastating. I just wanted to make a small contribution."
As donations began arriving, Catalina's father Rip Pratt offered the use of a large warehouse he owns in Fort Pierce, where he operates a bio-diesel plant.
Donations ranging from non-perishable foods and student desks donated by St. Edwards School to large tractors and other machinery needed by islanders to clear debris from roads and tackle other infrastructure needs have flowed through the warehouse, said Scott McGuire, a local civil engineer who volunteered to oversee and coordinate donations delivered to the warehouse.
"At first the goal was to deliver the basics, like food and diapers," McGuire said. Now that most of the immediate survival needs have been taken care of, the emphasis has shifted to repairing damage done to structures and infrastructure.
"Right now, we're in the rebuilding stage, so most of our shipments include building materials, tools and heavy machinery," McGuire said, adding that the most urgent need is for cash donations.
"It's expensive," he said of the ongoing relief effort. "We have to rent the barges, which cost $40,000-$50,000 per round-trip."
McGuire coordinates efforts with government leaders in the Bahamas, as well as other relief groups.
"It's been a lot of work for everybody," said Rip Pratt. "But we've all been able to enjoy the Bahamas and it feels good to have the ability to help and make a difference."