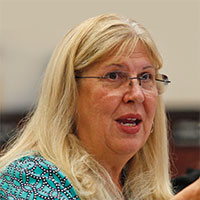 Susan Moxley: An 'absolute blessing' for our schools
STORY BY FEDERICO MARTINEZ
Photo: Moxley stepped in as interim superintendent of a school district in disarray, and in seven months got things back on track.

When Interim Superintendent Susan Moxley parachuted into Vero Beach in May, she found a school district whose finances were in chaos and a frustrated School Board that spent most of its time fighting amongst itself.
A dark cloud of distrust hung heavy over school district employees, students and the community.
Fast, effective rescue action was called for.
"When I was hired, the board wasn't looking for someone to hold down the fort until a new superintendent could be hired," said Moxley, whose last day with the district was Dec. 19. "The district was bleeding badly. They needed someone to come in and get the work done immediately – and that's what I tried to do."
In the eyes of the School Board and others in the district, Moxley was brilliantly successful.
"Dr. Moxley has been an absolute blessing to Indian River County Schools," said School Board member Jacqueline Rosario. "She came to our district at a time when healing was desperately needed and that is exactly what she has accomplished."
The most pressing problem was the school district's finances, which were in disarray, Moxley told Vero Beach 32963 in an exclusive interview last week.
The school district had been operating for months without a chief financial officer, and a series of poor financial decisions and blunders by her predecessor, Superintendent Mark Rendell, had left the general fund dangerously low.
To make matters worse, nobody knew how much money the district actually had, which stymied administrators' efforts to prepare a 2019-20 school year budget, she said.
"We had been existing as an organization without several key positions – a CFO and human resources director," Moxley said. "Those were positions that needed to be filled immediately."
With the board's approval, Moxley posted the jobs and began taking applications almost immediately upon her arrival.
But the district's financial problems couldn't wait. With the assistance of a grant from the Florida Association of School Superintendents, Moxley hired a financial consultant to help her begin untangling the district's finances and start work on a new budget while the search for a new CFO was underway.
She and the consultant soon found that Rendell had been taking restricted money from other parts of the budget to bolster the general fund and make it look healthier than it was.
At the same time, after Ronald Fagan was hired as CFO, it was discovered there were hundreds of thousands of dollars mysteriously sitting untouched in accounts no one had been aware of.
Other hidden problems uncovered included a letter notifying the district its bond rating had been lowered – something that could make future borrowing more expensive and possibly jeopardize capital projects such as new school buildings.
The letter was addressed to the School Board, but Rendell had never shown it to board members.
Moxley declined to criticize Rendell directly – she refuses to mention his name – but her actions as Interim Superintendent speak louder than words.
By the end of June, she reversed a flurry of personnel move's Rendell made on his way out the door after his contract was not renewed – including rehiring staff the former superintendent had fired.
"I base my decisions on what I think is best for the district," Moxley explained at the time.
Moxley was also quick to embrace working with the NAACP and the district's Equity Committee to begin bringing the district into compliance with a 52-year-old federal desegregation order.
One of the first thing's Moxley did after arriving was to meet with every department and administrator and order them to cooperate with the NAACP and Equity Committee.
Her actions were in stark contrast to Rendell, who spent more than $775,000 of taxpayer dollars on legal fees struggling to convince a federal judge the district had achieved compliance with the desegregation order and should be released from oversight.
Moxley's style and efforts were quickly applauded and consistently supported by the School Board throughout her dramatic seven-month tenure.
"Dr. Moxley served our school district with dignity through a rough time, and did so with grace, and for that, I will be forever grateful to her," said board member Teri Barenborg.
Unlike Rendell, who had a brash, secretive style of leadership, Moxley took a much different approach. Upon her arrival, she began inviting board members to meet one-on-one with her weekly, to discuss concerns and share ideas.
Her open-door policy also encouraged school employees, parents and the community to visit. When she wasn't hosting office meetings, she frequently stopped by district schools to meet and talk with students, teachers, administrators and other school employees.
"My goal was to establish trust and transparency," Moxley told Vero Beach 32963. "I never wanted the board to be surprised by anything."
She took the same approach with the community.
"I'm a very face-to-face person," Moxley said. "I need to see and hear people and see where they are coming from so that I can help solve problems."
That approach was vital to helping the community recover and begin to come together after Rendell's traumatic tenure, said board member Rosario.
"Although we are not where we ought to be, we certainly are not where we were, thanks to Dr. Moxley's hard work and dedication. I once said she was heaven sent in jest, but the reality is, she really has been heaven sent."
Moxley said she too is pleased with the progress made but isn't perfectly satisfied.
"In any job, you say, 'I should have done this, or that,'" she said. "But we – the board, the district and community – have accomplished a great deal."
As she departs, Moxley is confident new Superintendent David Moore has the ability to continue and extend the progress made over the past seven months and take the district to new heights.
"We have someone who has enormous instructional background, strong leadership skills and can hit the ground running," Moxley said. "He's a great communicator and very consistent about children and learning being the top priority.
"If anything comes up . . . he will address it."
Moxley capped her long educational career by serving as a school superintendent in another Florida district for a decade before retiring two years ago.
She enjoyed her time in Indian River County enough that she briefly considered applying for the full-time superintendent job.
In the end, she decided it would be best to return to her home in St. Augustine to spend time with her family, including her elderly mother.
She plans to do some traveling this spring and return to teaching doctorial classes.
Moxley doesn't rule out the possibility of serving as an interim superintendent at another district in need of triage in the future, but she's not actively seeking employment.
"I'm very grateful to Indian River for giving me this opportunity," Moxley said. "If this happens to be my last opportunity – then what a way to go out."