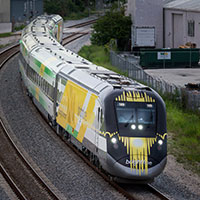 Train-related deaths prompt new focus on safety measures
STORY BY GEORGE ANDREASSI

Indian River County's crusade to reduce train-related deaths prompted Virgin Trains USA and state transportation officials last week to unveil new safety measures.
VTUSA, also known as Brightline, intends to run 34 passenger trains per day through Indian River County at up to 110 mph by late 2022 after completing track construction between West Palm Beach and Orlando.
The trains are already running in South Florida, between Miami and West Palm Beach.
For several years, county commissioners and state Sen. Debbie Mayfield have pleaded with state leaders to establish regulations for higher-speed passenger trains and exercise greater oversight on the $4 billion VTUSA project linking Orlando to Miami.
Longstanding local safety concerns took on greater urgency Dec. 2 when the Associated Press reported its analysis of Federal Railroad Administration data showed VTUSA had the worst per-mile death rate of the nation's 821 railroads. The AP reported 41 deaths along its South Florida route.
With most of the deaths attributed to suicide, VTUSA/Brightline President Patrick Goddard announced Dec. 4 the company would work with the 211 Helpline on a new effort to combat suicide-by-rail. "Suicide-by-rail is an industry-wide issue," Goddard said. "The nationwide statistics are startling."
VTUSA offered to match $500,000 in state funds requested by state Rep. Mike Caruso (R-Delray Beach) to spread awareness about the 211 Helpline as a suicide prevention resource, particularly in areas near railroad tracks.
If the State Legislature provides the money, the efforts would include reaching out to homeless people and placing signs along the tracks promoting the 211 suicide prevention services.
VTUSA/Brightline officials have said all along that safety is their top priority.
In another rail safety initiative, Florida Department of Transportation announced plans on Dec. 5 to spend $60 million on new warning systems at railroad crossings on all state roads.
In Indian River County, the initiative would cover only 20th Street and 19th Place, State Road 60 eastbound and westbound, in downtown Vero Beach.
The warnings, including signs and pavement striping, aim to keep motorists from stopping on or too close to railroad crossings.
"One fatality on our rail crossings is one too many," said state Transportation Secretary Kevin Thibault.
Despite the flurry of activity, the new safety measures do little for Indian River County, said county spokesman Brian Sullivan. FDOT should require far more robust safety measures and cover all railroad crossings, not just those on state roads.
"It's good to have their attention on rail safety," Sullivan said. "I think there's definitely room for more."
"It has been a major concern and a major priority for our board," Sullivan said about the recent focus on passenger rail safety. "But you never want to say, 'See, you should have listened to us. We told you so.'"