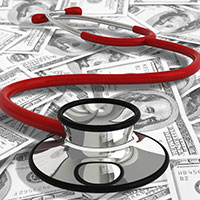 Area hospitals will help patients predict cost of a procedure
STORY BY MICHELLE GENZ

If there was one positive outcome in the seemingly senseless government mandate that hospitals release their wildly inflated "sticker price" list for treatment known as the chargemaster, it is that consumers searching for the list may come across initiatives already in place to help them predict how much a procedure will cost.
Both Cleveland Clinic Indian River (formerly Indian River Medical Center) and Steward Sebastian River Medical Center offer personalized estimates of the cost of treatment or procedures.
For consumers, the chargemaster price list is largely incomprehensible, unnavigable and irrelevant to what they can expect to pay, even though it includes a charge for every possible billable procedure or group of procedures for a particular diagnosis, plus every test, drug and medical supply.
Until recently, the byzantine spreadsheet of code names and numbers was considered proprietary information, used in ultra-confidential negotiations with insurance companies that discount the chargemaster figures to arrive at the amount they will reimburse hospital for a covered patient.
But the figure on the chargemaster is almost never what a patient pays.
That's because chargemaster pricing is on average four times the actual cost of the service, according to a Johns Hopkins analysis based on 2013 data.
And the mark-up can be far higher, with CT scans and anesthesia among the most inflated: on average 20 times the cost, according to the Hopkins study.
With the new disclosure law, hospitals are scrambling to reassure patients that they likely won't ever see those prices on their bills. At Cleveland Clinic Indian River, the chargemaster list went public the same day Cleveland took over – Jan. 1. But the list is the same as it was prior to the takeover, spokeswoman Angela Dickens said.
Dickens said, however, that the hospital's Financial Assistance Service Unit is available to "meet face-to-face at our FASU office, over the phone, or via our website," to help patients get an idea of what treatment will cost.
"That team works with individuals to determine their financial responsibility whether or not they are covered by insurance or self-pay," she said. "They also help identify potential financial assistance programs and assist patients with those application processes."
The financial assistance team was in place prior to the Cleveland takeover, Dickens said.
Sebastian River Medical Center's website says that estimates for services can be provided on request through the patient access or scheduling departments.
Marketing coordinator Andrea Lundquist suggested patients should further check with their doctors for estimates.
"Consumers looking for an accurate estimate of the actual cost of care should contact their providers and ask for a cost estimate relevant to their specific care needs," she said.
Lundquist made it clear the hospital was concerned about the confusion the chargemaster posting may lead to. "In short, the amounts shown as 'charges' are rarely, if ever, what the hospital actually gets paid," she said.
In Fort Pierce, HCA's Lawnwood Regional Medical Center posted its chargemaster list with a disclaimer that users have to acknowledge before viewing the pricing: "You should understand that a final bill for services rendered . . . may differ substantially from the information provided by this website," the disclaimer reads.
Like Sebastian, HCA offers personalized estimates by phone with instructions online telling patients how to prepare for the call.