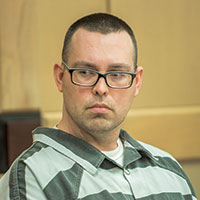 Defense ordered to share mental info on accused Duve killer
STORY BY FEDERICO MARTINEZ
File Photo of Michael David Jones.

Defense medical experts for Michael David Jones, charged with the gruesome murder of 26-year-old nurse Diana Duve, have been ordered by Circuit Court Judge Daniel Vaughn to turn over their findings to state prosecutors, whose own requests have been rebuffed for months.
Vaughn, during a Jan. 31 hearing, approved subpoenas ordering the experts, including a neurologist and psychiatrist, to provide state attorneys all medical findings and documents explaining what instruments and techniques were used to make their determinations about Jones' mental health.
"As a representative for the people of this state, I need to know these things," said Chief Assistant State Attorney Tom Bakkedahl.
Jones, 36, has pleaded not guilty to the first-degree murder charge. He is accused of strangling Duve, a Sebastian River Medical Center nurse and resident of The Moorings, at his Vero townhouse, then putting her body in the trunk of her black Nissan Altima and driving to Melbourne where he abandoned the car in a Publix parking lot.
If convicted, Jones could face the death penalty.
In an unusual twist, attorney Stanley Glenn, who represents Jones, agreed with Bakkedahl during the July 31 hearing and said he supports the prosecution's right to his client's medical records. He even offered to help obtain the evidence himself and turn it over to the prosecutor.
The issue is a sensitive one, both attorneys told Vaughn. The neurologist has threatened to pull out of the case if the prosecution tries to force him turn over his raw findings, an action that would further delay the five-year-old case coming to trial.
Bakkedahl and Glenn both said, as of now, the case should be ready to go to trial in late July or early August. They agreed to cooperate in the effort to secure the neurologist's findings so as to prevent the trial date being pushed further into the future.
Glenn explained that according to professional guidelines and ethics, medical information is only supposed to be shared with other medical experts.
"I understand that," Bakkedahl said. "But they offered their services to the court. They need to understand that in this instance they are practicing psychology in the legal arena, I'm not practicing law in psychology."
Vaughn agreed with Bakkedahl's argument.
Duve's body was found in the trunk of her car in Melbourne five years ago by police after her mother reported her missing and co-workers became concerned when she missed her shift as a nurse.
Jones and Duve had a history of violent, destructive behavior, according to depositions from friends and co-workers. Jones, who was working as a banker at the time of his arrest, had previously been convicted of aggravated stalking in Broward County in an incident involving a different woman and was on probation when police tracked him to a Fort Pierce hotel room after Duve's body was found.
The case has dragged on as Jones faced court proceedings in Broward County and attorneys played a game of legal chess by making motions and counter motions.