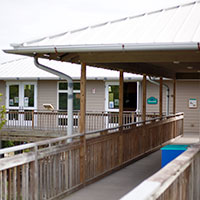 Environmental Learning Center loses 2nd exec
STORY BY SAMANTHA ROHLFING BAITA

Less than a month after the abrupt resignation of Environmental Learning Center Executive Director Molly Steinwald, the county's flagship environmental education organization has lost another top executive: Chief Operating Officer Margaret Kearney.
Board Chairman Don Barr described Kearney's departure as a surprise, the same thing he said about Steinwald's departure in January. He also said Kearney leaving was "not totally unexpected."
In a written statement, Steinwald, who had served as executive director since 2014, said she resigned "due to differences in governance and understanding of the immediate needs of the organization."
Kearney, who was hired as COO in 2016, also submitted a letter of resignation to the ELC Board and the ELC Foundation Board in which she explained the reasons for her exit, according to a source, but the letter has not been made public.
One possible bone of contention could have been leadership succession. A COO is typically considered second-in-command. But asked whether Kearney had been in line to take over from Steinwald, Barr said: "After Molly left, Margaret did not succeed her so – no."
Including the two vacant positions, the ELC has 14 fulltime staff positions along with a number of part-time positions and a cadre of volunteers.
Barr acknowledged there has been staff turnover in addition to the two high-profile resignations since the shift in organizational focus, but contends that isn't unusual when an institution embarks on major reorganization.
He also acknowledges that "there were some conflicts on campus among a few staff. We are making every effort to address the root causes of any conflict so that we can better address the mission of the ELC."
That mission, according to the ELC website, is "to educate, inspire and empower all people to be active stewards of the environment and their own well-being."
Meanwhile, Barr says a major expansion effort is on track despite the loss of the organization's top two leaders.
"Currently, the board vice-chair and I are essentially performing executive director duties," Barr said, explaining that the two men meet with all staff weekly, hold regular department head meetings and "provide direction and support for staff as needed." He calls the remaining staff "outstanding and capable."
An executive director search committee has been formed, but because the search process will take up to 6 months, Barr said the board is "considering hiring an interim executive director so that the board chair and vice-chair can go back to governing rather than managing."