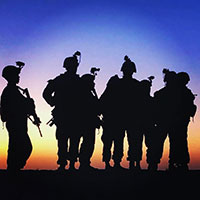 For an island family, the front is very near
STORY BY LISA ZAHNER
Photo: Marine Sgt. Erik Rosell and his patrol heading off on a patrol in South Asia.

At 3 a.m. in a bedroom on a quiet street in Indian River Shores, one father last week was doing what countless other military parents – some of them also residents of our community – do every night.
He was checking his cellphone, hoping for a text message from the front lines nine time zones away – just a few words confirming that his son is OK. Unable to sleep, he scanned international and military news websites for any scrap of information about events in the troubled area where his son is deployed. 
"I haven't slept a full night since he left and I'm not going to sleep a full night until he's home safe," the father said over the weekend, admitting the deployment of his son, a 24-year-old U.S. Marine Corps sergeant, is even tougher on his wife, the young Marine's mother.
This "hyper vigilance" for months or years on end takes an emotional and physical toll on military families.  In this case, the father is a man many 32963 residents know and respect: Indian River Shores Public Safety Chief Rich Rosell.
By day, Chief Rosell usually has a smile on his face and a ready joke or smart remark on his lips. By night, he's the dad who holds an uneasy vigil for son Erik.
Chief Rosell has nearly 32 years of combined active duty, reserve and National Guard service with the U.S. Army and Marines. He still suits up for duty at least one weekend per month, plus two or more weeks each year. In November, the Army will age him out just before his 61st birthday, a forced retirement.
A couple of decades ago, Rosell was deployed twice to Albania, where he worked closely with the Albanian military. But more than 20 years of his reserve and guard service was spent working as a trainer, preparing young men and women just like Erik for a deployment to the hostile Middle East and South Asia, where the front line is around every street corner.
"My biggest concern when Erik got notice of where he was going was that he get the right kind of training," Rosell said. "They trained for three months before they stepped foot on that plane. Erik showed me the curriculum and after that I had some comfort knowing that he was going to be well-trained.
"It's a little easier for me than it is for my wife because I used to train troops for missions like this and I understand the training they get. To her, Erik is still that kid playing video games," he said.
Rosell declined to say exactly where Erik is stationed, due to security concerns and the nature of his mission. "He's in a bad place surrounded by bad people making certain those bad people don't make it over here to hurt us. If you wouldn't mind, please include him in your prayers," Rosell asked friends on his Facebook page last fall, posting a photo of Erik in fatigues, fully geared-up and heavily armed, riding in a helicopter.
"Semper Fi to my favorite Jarhead," he added.
He gets a reassuring text message maybe three times a week at random hours from Erik when the Marine is able to get on Wi-Fi and has a free moment to check in. But he and his wife, Darlene, have heard their son's voice only once since he shipped out in September.
"We got a phone call on Christmas Day and got to talk to Erik," Rosell said. "His mom was really not in a good place about him being away and I told him if there was any way he could make it happen, that he needed to call his mother for Christmas."
Every few months, the Rosells get a photograph from their son, who was called up into active duty five years into his Reserve service, interrupting his university studies. Erik Rosell is a registered nurse in addition to being a highly trained infantryman, so he's also a first-responder like his dad. When Medevac choppers come into camp, Erik often jumps in to help triage the wounded.
Rosell said he's always had close friends serving in dangerous places, but knowing his own son is deployed in a combat zone has changed everything.
To help deal with the deployment, Rosell devotes some of his time to honoring local veterans by serving in a regional honor guard. He also tries to pay more attention to military veterans who live in the area.
"You know how you'll see the old guys around town wearing the World War II hats or something saying they served in Korea or Vietnam?  I always saw them before, but now I stop and say hello and thank them for their service," Rosell said.