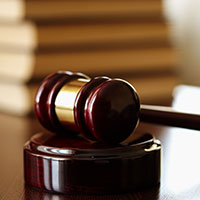 Judge asked to not loosen bond conditions in DUI death case
STORY BY FEDERICO MARTINEZ

Family members and friends of a man and woman killed in a collision with an SUV driven by a man charged with DUI manslaughter packed the courtroom and reacted emotionally last week when the man asked Circuit Court Judge Daniel Vaughn to loosen his bond conditions. 
Edward Ray Wheeler, 65, of Sebastian sought permission at the Feb. 20 hearing to have his alcohol and GPS monitoring bracelets removed and his house arrest lifted so that he can undergo knee surgery and take up to 12 medications, most of which contain alcohol.
Wheeler told the judge he is charged $250 per month for the alcohol monitor, which is "causing a financial hardship" for his family.
"This man is in so much pain, shock and remorse," said Wheeler's attorney Robert Stone.
Stone also referred to the fatal incident last Sept. 13 as an "unfortunate accident," which prompted a quick rebuke from family members and friends of the deceased, who had squeezed into the courtroom and took turns pleading with the judge to deny Wheeler's requests.
According to the Sebastian Police Department, Wheeler had a blood-level alcohol level of .29, more than three times over the legal limit, when he crashed his sports utility vehicle into a motorcycle carrying 67-year-old motorcycle driver Lawrence C. Rubino and 69-year-old passenger Teresa G. Calhoun, both of Sebastian.
"This wasn't an 'accident,'" said Rubino's wife Carmen. "Edward Wheeler made a selfish, senseless decision to get inside his car and drive."
Lawrence's father, Bruce Rubino, trembled and sobbed as he addressed the judge.
"The impact tossed my son 50 feet into the air," Bruce Rubino said. "Ms. Calhoun was thrown 70 feet and landed in a swamp with half of her face missing.
"[Wheeler] is a drunk who killed two people who were living comfortably and had their lives taken away. He has spent months on Facebook complaining that he is the victim. Now he's asking for a reduction in his bond conditions. If approved, that would be a disgrace."
The judge initially said he would try to make a decision about Wheeler's request the day of the hearing, but had not done so as of Monday's press time.
Two days after the hearing, on Feb. 22, Wheeler's attorney filed a motion asking for an order of no contact that would prohibit Rubino's and Calhoun's family and friends from coming within 500 feet of Wheeler or his residence – which would bar them from attending future hearings.
Stone's motion alleges that Bruce Rubino verbally threatened Wheeler while both families waited in the hallway outside the courtroom prior to the Feb. 20 hearing, saying he would kill him.
"The animosity of the alleged victims' family and friends is overwhelming," Stone wrote in his motion.
"They have yelled obscenities at Mr. Wheeler and the undersigned while attending court appearances."
The alleged threats were not mentioned at the hearing but the judge  did order Wheeler and his attorney to leave the courthouse first, before allowing family and friends of Rubino and Calhoun to leave.
The judge has not yet ruled on Stone's request. Rubino's family did not respond to calls or text messages seeking comment.