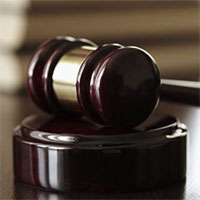 State seeks to raise history of violence in Jones murder trial
STORY BY FEDERICO MARTINEZ

The State Attorney's office last week asked Judge Daniel Vaughn for permission to use testimony they admit is "circumstantial evidence" during the upcoming trial of Michael David Jones, who is charged with murdering island resident Diana Duve in 2014.
Chief Assistant State Attorney Tom Bakkedahl and lead prosecutor Brian Workman argued the evidence – testimony about an earlier altercation between the couple during which Jones allegedly choked and threatened to kill Duve – helps establish the murder was premeditated.
Jones' attorney, Assistant Public Defender Stanley Glenn, who opposes the prosecution's efforts, said the testimony is based on "hearsay," and questioned its relevance to the case.
"What the state attorney wants to introduce is hearsay, not facts," Glenn said. "There is so much emotion attached to the testimony they want to introduce, it would unfairly prejudice the jury."
Vaughn did not make an immediate decision on the issue, and said he would issue a written opinion "as soon as possible."
A trial date has not yet been scheduled for Jones in the now five-year-old case. He is currently charged with first-degree murder. If convicted, Jones could face the death penalty.
Prosecutors are basing their argument on what is referred to as the "Williams Rule," a Florida statute that allows relevant evidence of collateral crimes to be admissible at jury trial if it's not used to try and prove the "bad character" or "criminal propensity" of the defendant. The rule allows the introduction of evidence that shows "motive, intent, knowledge, modus operandi, or lack of mistake."
During the hearing, Workman and Bakkedahl introduced several witnesses, including Eric Corrigan, a former neighbor of Jones. Corrigan testified he had called 911 at 1:16 a.m. two months before the killing because Jones was screaming so loudly at Duve that he became concerned about her safety. At the time, Jones lived at 1620 42nd Square, # 103, in Vero Beach.
"Jones sounded very enraged," Corrigan testified. "He was screaming so loudly that it was difficult to understand what he was saying. I could hear Duve crying. Absolutely, I was very concerned."
Vero Beach Police Department Officer Kyle Kuehn told Vaughn that he was the first officer to respond to the scene.
Jones answered the door after several minutes and told Kuehn that nothing was going on, that he had been sleeping, according to Kuehn. Jones eventually acknowledged that Duve was also in the house. When she appeared at the door, she was wearing a "tank-top" and "pajama bottoms," and "her demeanor appeared normal."
By this time a second officer had arrived at the scene and Kuehn said he directed Duve to speak to that officer. Duve told the officer that she wanted to leave the house and asked police to stay while she collected some of her belongings.
Kuehn said he didn't recall seeing any signs of injury on Duve that night but acknowledged it was dark, and he didn't spend much time with her.
Kuehn said this his impressions were different than the second officer, who did not appear for the hearing, but submitted a written statement that was not shared publicly. Kuehn did say the other officer reported that Duve appeared "upset."
Two other witnesses, who identified themselves as friends of Duve, testified that she was very upset when she showed up at the Stamp Bar in downtown Vero, where they worked after leaving Jones' home. The bar is located approximately 10 minutes from where Jones lived. "She was very hysterical," one of the friends said. "She couldn't talk at first, she was almost hyperventilating."
After Duve calmed down, she told her friends that an enraged Jones had gotten on top of her and began choking her, repeatedly telling her, "I'll [expletive] kill you."
Several people at the bar took photos of Duve's neck, which appeared to have large, red fingerprint indentations on it – as if Duve had been choked, the friend testified.
Those photos have already been submitted to investigators and were also given to the judge during the hearing.
Bakkedahl argued that the testimony of the police officers and Duve's friends and other evidence from the earlier incident was relevant to Duve's death several weeks later.
"Your Honor, you've heard testimony that the defendant was involved in a vicious incident – so vicious and threatening that a neighbor could hear it through his wall," Bakkedahl said. "You have a defendant who tried to mislead officers and a woman, Diana Duve, who definitely didn't want to stay there.
"We know that Michael David Jones threatened Diana Duve, telling her that "I'm going to [expletive] kill you" and "I can kill you right now."
Jones, 36, is accused of strangling Duve, a Sebastian River Medical Center nurse and resident of The Moorings, at his Vero Beach townhouse on June 20, 2014, then putting her body in the trunk of her black Nissan Altima and driving to Melbourne, where he abandoned the car in a Publix parking lot.
In earlier depositions, Jones has offered several explanations for Duve's death, including that her death was accidental, due to "rough sex," Bakkedahl said.
"More absurdly, he's claimed that he also has memory loss and has multiple personality disorder – suggesting one of the other Michaels murdered Diana Duve."
Jones has pleaded not guilty to the charge of first-degree murder.