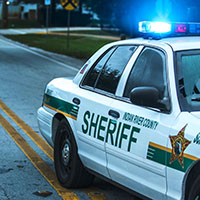 Suspects allegedly attempt to flush drugs with deputies outside bathroom window
STORY BY FEDERICO MARTINEZ

Two Vero residents are facing multiple felony charges after allegedly trying to flush large qualities of marijuana down a toilet in their home as deputies stood outside the bathroom window,  according to an Indian River County Sheriff's Office arrest affidavit.
The incident occurred on Jan. 25, when sheriff's deputies acting on a tip arrived at 8725 105th Court, looking for felony suspect Zachary Music, age 23. According to Deputy Dwayne Hollett, when he approached the residence, he saw Music through the window in the front door "walking into a bedroom located in the south end of the residence."
When Hollett knocked, a juvenile opened the door and admitted that Music was in the house. As Hollett approached the closed bedroom door, Music opened the door and was grabbed by the deputy.
As Hollett detained Music, he saw through the open door "several marijuana plants within a containment area designed for cultivating" pot.
There were two other men in the room, including Frederick Bernard Jones III, 21. The deputy ordered the two men and the juvenile to step outside the house while he cuffed Music and put him in his patrol vehicle.
Instead, the trio dodged back into the bedroom "and locked the door behind them," according to the arrest affidavit.
After putting Music in the patrol vehicle, Hollett and another deputy returned to front door of the house and knocked. When no one answered they went to the back of the house and "could hear the toilet flushing [and smell] the odor of marijuana that emanated strongly from the bathroom window."
Narcotics Detective Christopher Reeve arrived with a search warrant and the deputies found the remnants of marijuana plants and soil floating in the toilet, according to sheriff's reports.
Jones and the 15-year-old juvenile were arrested and have been charged with two felonies.