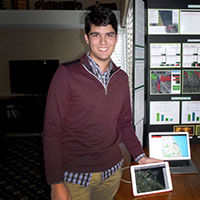 Vero High student creates app to predict algae blooms in lagoon
STORY BY SUE COCKING
Photo: Vero Beach High School science whiz Griffin Wagner.

Vero Beach High School science whiz Griffin Wagner last Wednesday took top honors at the Indian River Regional Science and Engineering Fair for his project aimed at combating the region's most pressing environmental problem:  algae blooms fouling the Indian River Lagoon.
Wagner created a computer program that he says can predict blue-green algae blooms in the estuary four to seven days in advance. The 17-year-old also developed a phone app to alert local officials (or anyone else) to the location of an impending bloom and its possible causes, and suggest ways to mitigate its effects.
"It can predict algae blooms with a 93 percent success rate," Wagner said.
Blue-green algae, or cyanobacteria, produces the 'green slime' that periodically afflicts lagoon waters – killing fish, shellfish and other marine creatures as well as their sea grass habitat. One species, microcystis, produces a toxin that makes people sick.
Wagner, an 11th-grader and top finisher at science fairs for the past five years, says he has been researching algae blooms in the lagoon for more than year, trying "to create a preventative measure and warning system for the lagoon."
Using data from Harbor Branch Oceanographic Institute's LOBO network of 10 water quality monitoring stations that measure nitrate, salinity and temperature levels from the St. Lucie Estuary to Sebastian Inlet, Wagner developed a computer algorithm that calculates whether an algae bloom will occur over the next four to seven days.  The program, he said, can help determine the cause of the bloom, such as fertilizer, leaky sewer pipes or septic tanks.
The accompanying phone app alerts users to the forecast location, density, and possible causes and suggests mitigation measures – for example, restricting fertilizer use in the affected area.
Wagner plans to deploy the app and website for public use after he consults with experts at Harbor Branch and the St. Johns River Water Management District.