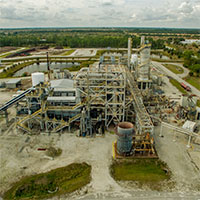 What's really going on with former INEOS facility?
STORY BY LISA ZAHNER

Less than a month after trying to auction off the entire defunct INEOS plant, or sell its surplus land and equipment piecemeal, Indian River Eco-District Managing Partner Alain Castro last week told the County Commission the latest grandiose plan to host a group of businesses at the site would collapse if he doesn't get cheap methane gas from the county landfill.
Castro said the as-yet-unnamed companies that allegedly are poised to launch operations at the former ethanol plant – companies, he says, that ultimately could employ hundreds of local people – had to have access to the gas to move forward.
The county finally voted to negotiate a contract with Eco-District – a subsidiary of Texas-based Frankens Energy that bought the defunct INEOS facility for a bargain basement price a year ago – to sell it the gas that is currently being burned off for safety reasons as it is emitted from the landfill and released through an exhaust system.
But amazingly, there was no discussion during all this of the fact that last month, the Eco-District attempted to auction off the INEOS property – land, buildings and miscellaneous equipment and vehicles – via an online auction company in Minnesota that specializes in marketing industrial sites.
Maas Companies published a 113-page, detailed catalog of more than 1,300 different auction lots listed for sale via sealed bid on Jan. 8, or online on Jan. 15, but before the auction date, most everything in the catalog was up for sale as a package deal if anyone wanted it all.
"The ethanol plant, biomass plant, equipment and surplus land are available as an Entirety Purchase prior to auction," the advertisement said.  "Potential bidders are encouraged to explore this option in a timely manner and submit their sealed bids by Tuesday, January 8, 2019 at 4 PM EST.  If an entirety offer is not accepted, the equipment will be sold piecemeal via a timed online auction ending Tuesday, January 15, 2019 at 4 PM EST."
Since Frankens Energy and the Indian River Eco-District are private entities, the outcome of those auctions is not public record.
Multiple requests to Maas Companies resulted in courteous replies from Sales and Marketing Director Tyler Maas, but he said he had contacted the Eco-District principals and relayed Vero Beach 32963's requests, but had gotten no response.
Calls to owner David Frankens seeking information about the auction, and how the Eco-District can move ahead with the new businesses if the property has been sold, also were not returned.
The County Commission did hedge last week on entering into additional contracts Frankens and the Eco-District were seeking for processing yard waste and recycling concrete, deciding to solicit more bids.
"My concern is if we enter into a new agreement and there is some problem with getting final disposal of yard waste, I'm concerned about that," said County Administrator Jason Brown. "I want to make sure any agreement we enter into, final disposal is taken care of."
Commission Chair Bob Solari said the Eco-District proposal's attempt to craft a public-private partnership "was a stretch to begin with" and that it doesn't really address the problems to be solved at the landfill.