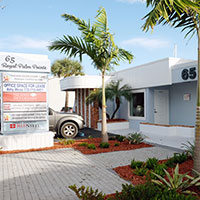 Acupuncturist Jill Jaynes: Was this what the judge had in mind?
STORY BY FEDERICO MARTINEZ
Photo: Jaynes' new office.

Acupuncturist Jill Jaynes, who is out on bond, facing multiple charges of fraud and racketeering, has closed her once thriving Vero Beach practice, Absolute Integrated Medicine (AIM), and opened a new clinic on Royal Palm Pointe.
According to city records, Jaynes purchased a new business license which lists her as the sole owner/manager at the clinic location, 65 Royal Palm Pointe #B. The business name listed on the license is Jill Hollis Jaynes, although there is no signage at her new location.
Jaynes did not respond to several phone messages asking about the new clinic, where she has been seeing clients for at least two months, according to business owners who work nearby.
It is not clear whether setting up a new clinic, and posting a note on the window of her old clinic referring former clients to her new business, might be considered a violation of Circuit Court Judge Robert Pegg's bond condition that she was to "have no contact with" Absolute Integrated Medicine.
Jaynes was arrested on Aug. 22 and charged with fraud and racketeering. Judge Pegg initially made it a condition of her release on a $455,000 bond that she not practice acupuncture or have any involvement with Absolute Integrated Medicine.
After Jaynes' lawyer, Brook Butler, filed a motion seeking a change in bond conditions, arguing the judge was taking away her client's means of livelihood and ability to pay for her defense, Pegg loosened the bond conditions.
"My original decision forbidding her to work at, or in any way be involved with Absolute Integrated Medicine stands," Pegg said at an October hearing. "However, she's not forbidden to work someplace else as an acupuncturist – if anyone will hire her – and as long as she has nothing to do with insurance or billing."
In a written order issued Oct. 10, Pegg further clarified Jaynes' bond conditions, making no mention of billing or working for someone else, writing simply that she is to have no contact with Absolute Integrated Medicine and "is precluded from accepting any form of insurance."
Pegg, who has retired from the bench, could not be reached for comment about whether Jaynes' opening of a new clinic and referring patients from her old clinic violates the bond conditions he set. Judge Dan Vaughn, who is taking over Jaynes case, could not be reached for comment. Jaynes has a trial status hearing with Vaughn on Jan. 15.
Jaynes' attorney Butler, in a brief phone interview, did not offer any details about her client's new clinic, but said: "As her attorney, I can tell you that my client is not in violation of the judge's orders."
Absolute Integrated Medicine remained open and busy for several months after Jaynes' arrest, but a note was recently posted on the window of the offices at 1575 Indian River Blvd. Suite #C-130 notifying clients that the clinic has been closed.
"Our AIM clinic is closed and will no longer be treating new patients," the sign reads. "Should you be interested in herbs, supplements, Beemer or in scheduling an appointment with Jill Jaynes, AP please call 772-770-6184 or 772-559-6084." Calls to the numbers listed were met with a pre-recorded greeting.
During recent visits to the new clinic, several interior office lights were on, but the doors were locked. No clients or employees could be seen in the lobby, which was not lighted. People who work in the plaza where the clinic is located said Jaynes has been seeing patients on a regular basis.
Jaynes is facing five felony charges that she conspired with others to defraud an insurance company by submitting false or incomplete information, illegally waived patient copayments and deductibles, and unlawfully paid others who referred patients for treatment to her former clinic.
She filed a not guilty plea on Sept. 20. A trial date has not been set.