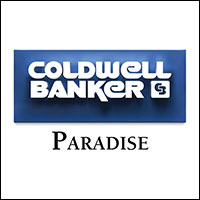 Coldwell Banker Paradise merges with bigger firm
STORY BY STEVEN M. THOMAS

Coldwell Banker Paradise, a family company founded as Ed Schlitt Realty in 1953 that grew to be one of the largest real estate brokerages on the Treasure and Space coasts of Florida, has merged with an even larger Coldwell Banker enterprise.
In a deal that "came together very quickly" and closed on Jan. 1, according to Coldwell Banker Paradise co-owner Steve Schlitt, the Vero-based firm became part of the Schmidt Family of Companies, a real estate powerhouse that operates in Michigan, Ohio, Florida and the U.S. Virgin Islands.
Headquartered in the Lake Michigan resort town of Traverse City, The Schmidt Family of Companies ranked 26th in the nation in number of transactions in 2018, according to Real Trends, with 1,400 agents handling 15,164 deals worth nearly $3 billion.
Coldwell Banker Paradise, which sells homes from Titusville to Stuart and did $580 million worth of business in 2018, brought 11 offices and 280 agents to the merger.
By the terms of the agreement, the local company will continue to operate as Coldwell Banker Paradise under the leadership of Schlitt and his sister and co-owner Linda Schlitt Gonzalez.
"Our goal in mergers and acquisitions isn't to come in and change everything and impose a new way of doing things," said Schmidt vice president of marketing Tracy Bacigalupi. "What we want to do is add value to companies that are already very successful and make them even better."
Schmidt's other main Florida company, acquired in 2012, is Coldwell Banker Sunstar Realty in Punta Gorda, which bills itself as the largest realtor in Charlotte County, and Bacigalupi says the man who founded that company in 1990, Don Randolph, is still part of the leadership at the Schmidt-owned brokerage. 
"Linda and I will be running this company," says Steve Schlitt. "The idea isn't that everything has to fit one mold. The companies share a lot, but each market is unique."
"The depth of our marketing, especially for the luxury market, is what will bring the biggest change," says Mike Schmidt, president of the Schmidt Family of Companies. "We have a significant marketing team focused on luxury property sales."
That team includes "a videographer who previously worked for Discovery Channel," says Schlitt, who believes Schmidt's "amazing" video capability and other digital tools will benefit his sellers, buyers and agents.
Members of the Schlitt and Schmidt families have known each other for years. As top performers in the Coldwell Banker network operating in non-competing markets, they met frequently at company functions to discuss ideas and strategies, according to Schlitt and Bacigalupi.
When those talks advanced to discussions about joining forces, the merger process proceeded rapidly.
"We put together a proposal and worked out the details in just a matter of weeks," says Schlitt. "The longest holdup was getting approval from Coldwell Banker corporate. We really pushed and managed to close the deal by the end of the year so we could start 2019 as a part of the Schmidt Family of Companies."
Coldwell Banker Paradise and the Schmidt Companies have a lot in common – besides similar-sounding names – that made the merger a natural fit, leaders of both companies say.
Both are long-established family firms, both joined Coldwell Banker in 1983 and both operate mainly in resort areas. Traverse City is a waterfront town the same size as Vero Beach at the center of a lake resort region visited by 20 million people a year, according to Schmidt's website for its Michigan properties. Other Schmidt markets include the Lake Erie shore in Ohio, the U. S. Virgin Islands and the west coast of Florida.
Adding a large, successful brokerage on Florida's east coast was a logical next step that adds to a north/south synergy that is part of Schmidt's strategy, in which clients in snowy Michigan and Ohio are natural buyers for vacation and retirement homes in Florida.
That synergy began to pay off for Coldwell Banker Paradise even before the merger was complete. "We have sold four properties in the last four weeks to buyers referred to us by Schmidt," says Steve Schlitt.
"It couldn't be a better fit," says Bacigalupi. "Our core values and company cultures align. We have a tremendous amount of respect for Steven and Linda and the Schlitt family and the location is wonderful. Being on the east coast of Florida will help us serve our customers better."
"We are getting to know the Coldwell Banker Paradise group and could not be happier," says Mike Schmidt. "We are learning from them as much as they learn from us. We are delighted to be part of the community."
Coldwell Banker Paradise was founded by Ed and Marguerite Schlitt in Vero Beach in 1953. The brokerage grew slowly for the next 50 years, opening offices on Vero's barrier island in 1968, in Sebastian in 1970, and on North Hutchinson Island in 1996, its first outside of Indian River County.
Steve Schlitt and Linda Schlitt Gonzalez bought the company from their parents in 1998 and ramped up expansion as the real estate market recovered after the Great Recession, purchasing Paradise Properties in Brevard County in 2011 and Hoyt Murphy in St. Lucie County in 2012 and adopting a regional marketing strategy.
"People who come here from other parts of the county want certain things – they want warm weather, lower density and to be by the ocean – but most of them really don't know Indialantic from South Hutchinson Island until they get here," Gonzalez said after the Hoyt Murphy acquisition. "By building up the largest brokerage on the central coast, we can help our buyers and sellers investigate more than one market."
Steve Schlitt says he and his sister did not aggressively expand the business with the thought of attracting a suitor, but rather to build on the legacy of his parents. "We were building it up as a family business, with the thought that Linda's children Andrew and Melody, who are in the business, would eventually take it over from us."
With the Schmidt merger, that succession plan remains in place.
The Schmidt Family of Companies was founded by Harold F. Schmidt in 1927 in Traverse City, Michigan.
His grandson and great-grandsons run the company today.