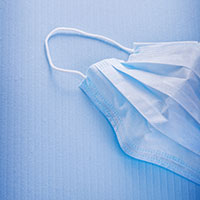 Few wear masks to help stop the spread of flu at clinics
STORY BY MICHELLE GENZ

The "Mask On" command came down Monday at Sebastian River Medical Center, issued by the Boston-based owner Steward Health Care System, after the Centers for Disease Control sounded the alarm.
Flu in Florida is increasing and is higher than it was at the same point in previous years, most notably in southeast Florida. Outbreaks now number 61, and have gone from regional to widespread.
Though nothing prevents flu like the flu vaccine, studies show masks worn by an infected person afford some protection to the people around them.
Steward's policy, in line with CDC guidelines, is that any caregiver who has officially opted out of the company-wide free flu vaccination must wear a mask within 6 feet of any patient under their care.
There is no distance requirement at Cleveland Clinic Indian River; the masks go on as soon as the caregiver enters the building. But the rule doesn't go into effect until flu reaches epidemic levels, a status not yet reached this season.
"We require our caregivers to receive a free flu shot unless the individual has a religious or medical exemption – they can't just voluntarily opt out," said Angela Dickens, vice president of marketing and community relations at the Vero hospital, the former Indian River Medical Center that was taken over by Cleveland Clinic Jan. 1.
Despite those rules for caregivers, the wearing of masks by patients and those accompanying them to emergency rooms is voluntary at both hospitals – even though CDC guidelines for mask use include "immediately putting a surgical mask on patients being evaluated for respiratory symptoms."
In lieu of healthcare providers giving directives to individuals, Indian River and Sebastian River hospitals rely on signage at entrances to prompt the public to voluntarily take protective measures against transmission. 
"Patients and visitors are not required to wear masks but they are offered as an available resource by each entrance of SRMC for any person coughing or complaining of respiratory symptoms, or by request," said Andrea Lundquist, the hospital's marketing coordinator.
At Indian River, Dickens pointed to signage that "asks" patients with flu-like symptoms to use masks along with hand sanitizer and tissues.
That is in contrast to the clinics run by the Florida Department of Health in Indian River.
At those locations, signage tells coughing patients to go to the reception desk, where they are given a mask. If they don't see the sign, a staff member goes to them.
"Clients are asked to wear a mask if they are coughing or sneezing. If they refuse, we ask that they wait in our outdoor lobby," said Stacy Brock, the Health Department's public health preparedness coordinator.
At IRMC during three visits to the emergency room over the past month, no one waiting in the ER had a mask on, not even in the separate post-triage area. Flu or not, coughing patients were sitting alongside patients with non-flu related complaints.
Presumably all had passed through the same entry vestibule, right past a large white sign targeting patients with flu symptoms. The sign asked – with an exclamation point – for them to sanitize their hands and wear a mask. But those phrases were the last of 11 lines of information. Only the most leisurely of arriving ER patients would pause long enough to read that long, never mind figure out where the masks were – tucked behind the sanitizer dispenser.
Smaller "cough stations," discreet enough to be mistaken for trash receptacles, are positioned at other entrances to the hospital and its clinics. They are meant to "encourage" patients and visitors to use provided hand sanitizer, tissues and masks, according to Dickens.
But at the Health and Wellness Center, a note was taped to the spot where masks were meant to go: "For a MASK please ask the front desk." If the point was to thwart mask pilferers, the extra steps to the desk could thwart flu-positive patients, looking to find a seat as fast as possible.
Complicating matters is the long exposure time in waiting rooms. The Centers for Disease Control and Prevention guidelines suggest treating patients in flu season through telemedicine or simple phone consultations. But doctors' hours were frequently reduced over Christmas break, making call-backs, particularly from solo practitioners, a challenge.
With urgent care clinics as jammed as the ERs, patients had little choice but to join the ailing unmasked throngs.
On one Saturday last month, a small, secondary waiting room at Indian River seemed to combine the worst of both worlds: close quarters crowded with patients who suffered from a clear mix of problems.
In a semi-circle of seating, at least three high-risk elderly patients waited among the others, no one in masks. One obviously miserable patient was coughing repeatedly, eventually falling asleep open-mouthed in a lounge chair.
At an urgent care center west of town, a box of masks lay on the narrow counter several feet down from where visitors checked in. But even the clerk wasn't wearing one despite feeling awful, as she passed a clipboard to a patient barely an arm's length away.
"And that's my son. He's getting swabbed for flu," she said, gesturing to a young boy walking past her to the exam room.
As assertive as the health department is on mask-wearing, Brock grew even more forceful about the most effective means of prevention: vaccination.
Mask or no mask, with one of the oldest populations in America, Vero Beach and Sebastian residents should be rolling up their sleeves en masse.
"Flu shot, flu shot, flu shot," Brock said. "That protects everybody."