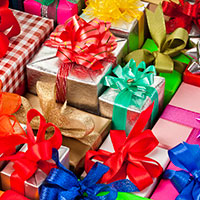 Island retailers report this was a great holiday season
STORY BY SAMANTHA ROHLFING BAITA

Up and down the island, from the Village Shops to Ocean Drive, merchants happily agreed with last week's Wall Street Journal report that "shoppers delivered the strongest holiday sales increase for U.S. retailers in six years."
"Very good" was the virtually unanimous response from island retailers when asked "How has your holiday season been?" And the level of enthusiasm was high going into 2019, as the Holiday Season melds into Vero's High Season.
At women's clothing store Pineapples in Central Beach, owner Carolyn Redfield said, "We had a good holiday. A very good holiday. We have a lot of holiday clientele for our party dresses." 
Pauline Adams, owner of synthetic jewelry boutique "I'll Never Tell" for 25 years, called the holiday season "great so far. People are here to relax and they don't mind spending, including Canadians, even with the money exchange issues."
Another long-time Ocean Drive business, Very Fitting, was bustling during a recent visit, with sales personnel assisting customers and manager Erin Metz multi-tasking. Other than to say it's been a good season, Metz was "too busy to talk." 
Toward the south end of the business district, Lily Pad has sold children's clothing, toys and accessories for four years. Owner Jennifer Lier said she's had a "strong Christmas season, with support from both locals and visitors. Now," she says, "we wait for the 'true' season."
North on A1A, in Pelican Plaza, Darcy Dunbar, proprietor of the gift shop Maison Beach, said her store had a "great holiday season," noticeably better than last year, despite stock market wobbles.
Dunbar said shoppers were in good spirits this season. She had significant foot traffic, repeat customers from "over the bridge," and "repeat tourist customers."
The positive holiday shopping reports continued into Indian River Shores, where Village Shops retailers were singing a happy tune. At Elegance by the Sea, Catherine Caddell said holiday business was "brisk, all the way up to Christmas Eve. As we were closing a little early, there were people knocking on the door. We even ran out of bags a couple times."
J. McLaughlin assistant manager Cindy Williams attributes the clothing store's happy and successful holiday season to more people staying longer and bringing families, as well as "our fabulous location."
Wendy Roberts, owner of Noteworthy by Design, a stationary store, said her holiday season was "wonderful, a lot of fun, especially the closer we got to Christmas. We had lots of new people come in, and more younger people. It's revitalizing."
According to the Wall Street Journal, retail sales in the U.S. from Nov. 1 through Christmas Eve "were up 5.1 percent to more than $850 billion," with shoppers apparently unaffected by political turmoil and a roller-coaster stock market. Significant for many beach shops, apparel sales were reported up nearly 8 percent.