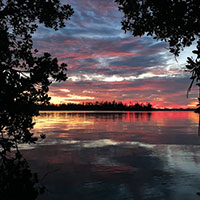 Lagoon Council has 'roadmap' to restore estuary
STORY BY SUE COCKING

The Indian River Lagoon Council has created a detailed "roadmap" for restoring the ailing estuary to health over the next 10 years which requires the help of all five counties, 38 cities, and some 1.6 million residents in the region.
After spending months drafting and re-drafting the comprehensive, 186-page conservation and management plan entitled "Looking Forward to 2030," the council submitted the document to the Environmental Protection Agency for review, with final adoption expected around June. 
The plan lays out an array of 32 "vital signs" of lagoon health, characterizing six of them – impaired waters, wastewater, stormwater, seagrass, harmful algae blooms, and the ability to implement and finance solutions – as critical, requiring immediate and aggressive intervention in order to save the Indian River Lagoon.
"This system is on the edge of collapse and it isn't going to get any better unless we all pitch in," said Dr. Duane DeFreese, executive director of the council, which prioritizes and funds projects to protect and repair the lagoon. "Identify the problems you own and fix them and we'll work together to get funding to get it done."
In order to restore already impaired waters which don't meet state and federal water quality standards, the plan calls for establishing hard limits on phosphorus and nitrogen content in the water and implementing projects to remove those nutrients and prevent them from entering the lagoon in the first place. 
In the wastewater category, recommendations call for improving and upgrading existing infrastructure, reducing the density of septic systems in the watershed and installing sewers, finding new ways to deal with reclaimed water to keep it out of the lagoon, and exploring advanced wastewater treatment technologies that can remove nutrients and, in some cases, generate power at the same time.
To reduce the flow of fertilizer, pesticides and other pollutants from homes, businesses and farms into the lagoon, the plan advises constructing new projects that capture and treat stormwater run-off while also upgrading existing filtration infrastructure. It also advocates for best management practices that stem the flow of pollutants through proper disposal of chemicals and reduced fertilizer and pesticide use.
Seagrasses are important barometers of lagoon health because they filter the water, provide homes for fish and other marine creatures, and are extremely sensitive to changes in water quality. 
Since the 2011 algae 'superbloom', the lagoon has lost more than half the seagrass acreage that was measured in 2009, according to the plan, which proposes planting new seagrass to accelerate recovery, coordinating lagoon-wide mapping of vegetation, and of course, improving water quality and clarity.
To counter harmful algae blooms such as the 'brown tide' that periodically afflicts the northern lagoon and the 'green slime' of microcystis from Lake Okeechobee that flows into the southern lagoon, the council calls for conducting scientific research on the causes and effects of the blooms, developing management plans to deal with blooms, and implementing projects to reduce pollutants that feed them.
Restoring the lagoon to its former robustness is going to require a stable, recurring funding program, the plan's authors say, because the $2,225,000 provided annually by the council's federal, state and local partners doesn't come close to meeting the estimated $1.5 billion cost of projects required to implement the plan's conservation and management goals.               
As an adjunct to "Looking Forward to 2030," the council asked its partners to submit a preliminary list of projects they would like funded – ranging from 'wish lists' to shovel-ready to in-progress.
Cities, counties, towns, water managers, parks and universities responded with nearly 500 items with a total cost of $1.3 billion.
"Every year, we'll identify projects in the pipeline that are ready to go," DeFreese said. "We'll try to help our partners in moving forward with restoration. We assist them technically and with finding money."
On the wish list of Vero Beach Public Works director Monte Falls is construction of a stormwater treatment facility for the Lateral E drainage basin costing about $1,000,000. The Lateral E canal drains an area south of downtown and west of the railroad tracks.
Falls said the city has budgeted funds this year to design the treatment facility in preparation for construction in 2020. Other projects on the city's list include septic system upgrades, retrofitting Vero Isles' stormwater inlets with filters to capture nutrients before they're discharged into the lagoon; restoring a living shoreline on Foot Island; and creating an oyster reef near the Mockingbird stormwater outfall.
The top request of Falls' counterpart with Indian River County, Rich Szpyrka, was for funds to complete the Osprey Acres Floway and Nature Preserve near South County Park – an $8.4 million project now underway that uses aquatic plants to remove nitrogen and phosphorus from untreated canal water and polishes water that's already been treated before it flows into the lagoon.
Szpyrka also submitted the North Relief Canal Low Energy Aquatic Plant System, or LEAPS, which is designed to combine agriculture with water treatment to remove up to 7,000 pounds of nitrogen and more than 1,000 pounds of phosphorus per year.
DeFreese says once the management plan is adopted, the council will develop a community and citizens' guide addressing "what can people do on an individual basis."
"There are individuals in small communities who think they're so small, they don't matter," DeFreese added.
"That is not true. There are things you can do" to help protect and restore the Lagoon.