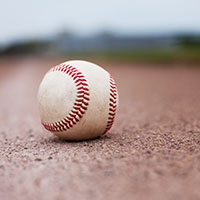 Little League return seen setting off new youth baseball wars
STORY BY RAY MCNULTY

When it comes to youth baseball leagues in the Vero Beach area, more isn't necessarily better – and three might be too much.
That's why Derek Muller, president of the Indian River Cal Ripken Baseball League, said last week he can't embrace the return of Vero Beach Little League, which is attempting a comeback after a six-year absence.
"The thought of providing kids with another choice might sound good," Muller said, "but by further dividing the pool of available players and diluting the local talent, it's going to weaken both leagues and probably will kill one of them, eventually.
"Remember: The county Recreation Department has a youth league, too," he added. "So this is going to create a mess . . . an unnecessary mess."
Coogie Freedman disagreed, saying he sees no downside to resurrecting Vero Beach Little League, which folded in 2013, after the organization's national headquarters refused to allow the city's two financially challenged leagues to merge.
The owner of The Field House athletic training center on Old Dixie Highway, Freedman heads a group that has been granted a charter from Little League Baseball and has embarked on a registration drive with plans to field four teams in each of five divisions for kids ages 5 to 13.
He said teams will play one or two games per week on nights and weekends, utilizing fields at South County and Kiwanis Hobart parks, and possibly other fields in the Vero Beach area. The season is scheduled to start Feb. 9, with opening day to be held at Historic Dodgertown.
The registration fee is $110 per player.
"Little League was a big part of our community for a long time, and people have so many wonderful memories of those years," Freedman said. "We want to bring the Little League brand – and all that goes with it – back to Vero Beach.
"The kids see the Little League World Series on TV, still dream about the thrill of going to Williamsport," he added. "So even though it's been gone for a few years, Little League is played across America and we want to give our kids a chance to be part of it.
"We're giving them another option."
For the past six years, most of the youth baseball played locally was under the banner of the Ripken League, which has been a rousing success: Its registration numbers have increased steadily from 224 in its debut season 2013 to 420 now.
The Ripken League has thrived in great part because – unlike Little League's previous run in Vero Beach, where local players were divided into teams in separate American and National leagues – it allowed kids from throughout the county to play together.
The result has been stronger all-star teams that have advanced to state semifinals, state finals, regional playoff and one World Series, providing players with better competition and more lasting youth-baseball memories.
In addition, many of the league's games are played at Jake Owen Field, a $950,000 synthetic-turf field built in Vero Beach by the Cal Ripken Sr. Foundation with help from a donation by the foundation of NASCAR driver Kevin Harvick, one of Owen's golf buddies.
Cal Ripken Jr., the Hall of Famer who in 1997 set the Major League Baseball record for consecutive games played, flew to Vero Beach to join Owen and Harvick for the dedication of the field, located at Michael Field on 12th Avenue.
Also, the Ripken League's 10-and-under all-star state championship tournament will be played in Vero Beach in July.
"The better players want to play Cal Ripken, not Little League, because the game is played at a higher level and it's more like real baseball," Muller said, referring to greater distances from the pitching mound to home plate and between bases, as well as the Ripken League allowing baserunners to take leads and get picked off.
"And because it's a more-advanced level, there's a better chance we'll get the travel-team kids to play in our league," he added. "Little League is going to have a tough time getting the travel-ball players."
Without the better players, Muller said, the Vero Beach Little League all-star teams will struggle to win against state competition and have no real chance to get to the Little League World Series.
Freedman would not divulge the number of players who've already signed up to play Little League this spring, saying only that he has seen "great interest so far" and expects a surge in registrations this month.
But Muller is concerned, if not worried.
"They've got the Little League brand, which everyone knows, plus there's always a percentage of players or parents who aren't happy with what happened the season before," Muller said. "That's just part of youth sports.
"But even with me working out here 80 hours a week, there are still maintenance costs, and we've also got to pay the electric bill for the lights," he added. "So if Little League takes 150 kids, we'd be down under 300, and we'll feel it. If they get traction and cut us in half, we've got a problem, because I can't charge $250.
"We could probably absorb it for a year, but not two."
Muller said he'd probably shut down the Ripken League and use Michael Field – he has a long-term lease with the city – to run travel-team baseball and other programs at the facility.
He can charge more for travel-ball programs, enough to get at least partially compensated for his time, so it's unlikely he would turn over the lease to Vero Beach Little League.
"Travel ball in the fall runs from mid-August to mid-December, so if I have five teams and get 60 kids at $200 per month, that's $48,000 for four months," Muller said. "If we do travel ball in the spring, too – something I haven't done because of the Ripken League – that's $96,000.
"I could actually get paid for doing this."
Currently, his fall travel teams are for kids ages 9 through 12, and he plans to add a 13-and-under group later this year. He could make more money by adding 14- and 15-and-under teams.
"Thing is, putting the focus on travel ball is something I've preached against and fought against for years, because I don't think it's best for the kids in our community," Muller said. "And I really don't want to bail on the league.
"But if I'm down to 200 kids, I could be forced to."