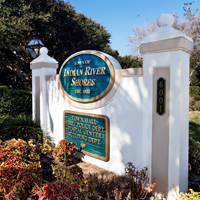 Musical chairs: Shores hires manager; Vero looking
STORY BY LISA ZAHNER

As Paul Carlisle settles in as Sebastian's new city manager, former Sebastian city manager Joe Griffin prepares to re-emerge from a brief retirement to take over the top job in Indian River Shores while Vero Beach opens up the search to replace City Manager Jim O'Connor.
Griffin, a retired U.S. Airways pilot and decorated U.S. Marine Corps veteran, will start Feb. 11 and be paid $140,000 per year. He was hired by a 4-1 vote last Thursday, with Vice Mayor Bob Auwaerter dissenting. Auwaerter said he had heard Griffin speak to a group a few months ago about how happy he was to be retiring and that it would take a lot to convince him of Griffin's sudden change of heart.
Easygoing, problem-solver and peacemaker are some of the words those who worked with Griffin in Sebastian use to describe his demeanor. Griffin has a reputation for striking a good balance between practicing a no-nonsense leadership style and cultivating rapport with residents, council members, other managers and employees.
Former Melbourne city manager Mike McNees, who for a few weeks looked like the odds-on favorite for the Indian River Shores job, has now applied for the Vero city manager position, according to O'Connor, whose last day is March 15.
McNees has experience running a complex city with an airport, a water-sewer utility, aging infrastructure and a robust police department. "I've only met Mike McNees a couple of times, but it seems like he might be a good fit," O'Connor said on Monday, adding the caveat that he's not exactly sure what the City Council will be looking for.
O'Connor said that to his knowledge, as of Monday afternoon, the other finalist for the Shores job, former Palm Bay city manager Gregg Lynk, had not expressed an interest in Vero Beach.
The new Vero Beach city manager will most likely be hired by the City Council seated after the Feb. 26 special election, which will include at least one new member since Councilman Lange Sykes is not up for re-election.