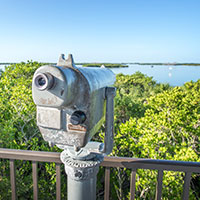 Pelican Island Wildlife Refuge remains open despite federal shutdown
STORY BY SAMANTHA ROHLFING BAITA

Despite reports to the contrary in the local daily, the Pelican Island National Wildlife Refuge is not closed to the public during the government shutdown.
The refuge remains open because it is the Indian River County Parks Department, not federal employees, who open and close the refuge gates, maintain the restrooms and parking lot, and take care of trash collection, according to Parks Department Conservation Land Manager Beth Powell.
The only changes visitors to the Refuge are experiencing during the shutdown are the absence of the volunteers who normally greet visitors, answer questions and drive the tour tram.
The tram is the property of the federal government and volunteers are considered federal "employees," says Tim Glover, treasurer of the Pelican Island Preservation Society (PIPS), a support group for the Refuge.
Unlike many other national wildlife refuges, there are no camping facilities at Pelican Island, and the refuge is primarily "do-it-yourself," with hiking opportunities and an information kiosk.
Depending on how long the shutdown stand-off lasts, the uncertainty could negatively  impact the popular Pelican Island Wildlife Festival, which has always taken place in March, Glover says.
The Pelican Island Preservation Society partners with the U.S. Fish and Wildlife Service in planning and presenting the festival, and regional Fish and Wildlife personnel participate in the event and give presentations throughout the day.  This year – so far – the 27th annual festival is scheduled for March 9.
The Refuge has just updated its website to reflect the shutdown, stating "any entry onto Refuge System property during this period of federal government shutdown is at the visitor's sole risk"
Pelican Island sits in the Indian River Lagoon near Sebastian, and is home to an impressive array of nesting birds, including its namesake, the brown pelican. 
The refuge website describes it as "a dot on the map (about 3 acres), but with a very large international footprint." 
This little dot, along with its surrounding 5,400-plus acres of protected waters and lands, comprise America's   first national wildlife refuge.