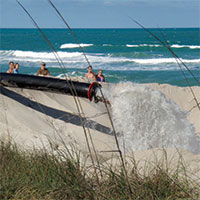 Sebastian Inlet dredging yields sand for beach renourishment
STORY BY SUE COCKING

Boaters and beachgoers in and around Sebastian Inlet will see dredge boats setting up and workers running pipes south along the beach for the next few weeks as the Sebastian Inlet District undertakes scheduled channel maintenance and beach renourishment projects.
Every four years or so, the district must dredge sand from a 42-acre sand trap near the mouth of the inlet to ensure safe navigation for boaters and then pump the sand onto beaches to the south  to ease erosion.
"The sand trap was blasted with dynamite in the 1970s," Inlet District Administrator Marty Smithson said. "The sand collects there by design and fills up the trap about every four years.
"You can tell when it is full because the channel starts to shoal in."
The district's contractor, Ferreira Construction of Stuart, will dredge 150,000 cubic yards from the sand trap, pumping about 120,000 cubic yards of the material through pipes that will stretch two miles south along the beach to a restoration site north of the McLarty Treasure Museum.
Bulldozers will till and grade the newly-deposited sand. The remaining 30,000 cubic yards of dredged sand will be stockpiled in the Inlet District's storage area just north of the inlet for emergency beach fill and dune repair. Work is expected to wrap up in mid-April prior to the start of the sea turtle nesting season, which begins May 1.
The total project cost is $2,945,000, with the Florida Department of Environmental Protection expected to kick in 75 percent, or about $2.2 million, while the district foots the balance.
Beach renourishment will be closely monitored by local, state and federal agencies and Florida Institute of Technology to ensure protection of sea grass and hard bottom habitat and the creatures they harbor, such as manatees, sea turtles, shorebirds and sawfish.
The district says 10 years of monitoring so far has shown no ill effects from its projects.
"The [Sebastian Inlet District] Commission takes seriously its commitment to preserving natural resources and protecting important habitats and wildlife around the inlet," said Smithson.
More than 2.5 million cubic yards of sand have been dredged from the inlet and used to restore county beaches since the district was created in 1919.