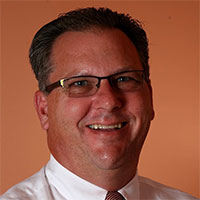 Vero real estate broker arrested for bilking big-time clients
STORY BY LISA ZAHNER
Photo: Brian J. Burklew

No matter whether he is convicted at trial or cleared of all wrongdoing, Brian J. Burklew is likely to rue the day he ever took on OSV Investments as a client.
The longtime local real estate broker is facing two felony charges for allegedly billing the Vero Beach investment company tens of thousands of dollars for repairs to a property police say was never worked on.
The initials in the name of the investment company, which police allege was bilked out of nearly $30,000 by Burklew, are what make this a high-profile case.
 The "O" in OSV stands for Harry Offutt III, son of former Vero Beach mayor Harry Offutt II. The "S" stands for longtime criminal defense attorney Charles Sullivan Sr. and the "V" for civil trial attorney Louis B. "Buck" Vocelle of the Vocelle and Berg law firm.
Burklew, 51, owner of Burklew Real Estate, was arrested on Jan. 22 and charged with organized fraud ($20,000 to $50,000) and second-degree grand theft.  He posted a $53,000 bond on Jan. 23, and could not be reached for comment. Burklew's arraignment is scheduled for March 15.
A summary in the arrest warrant states that Burklew was employed by OSV to purchase homes to be remodeled and sold for profit, to find contractors and submit proposals, to oversee the rehab of the properties and then to list them for sale with his real estate agency, and to find buyers. Court documents state Burklew "would then be given a percentage after the sale of the property."
Starletta Knudson, a bookkeeper for OSV Investments, lodged a complaint about Burklew with the Indian River County Sheriff's Office on Dec. 12, 2018.
Knudson became suspicious after Burklew began submitting numerous invoices from two companies, Sand Castle Cabinets and Concierge Services of Vero Beach, according to sheriff's investigators. Invoices submitted totaled more than $29,000 for closet kits, shelves, sinks, faucets, toilets, door handles, locks and cedar wood panel and cabinet knobs.
Knudson paid the bills, but began to research the companies. She discovered they were owned and operated by Burklew.
Further investigation into payments for invoices from the two companies showed that OSV Investment's checks had been deposited into Burklew's personal account at Harbor Community Bank (now Center State Bank), court papers say.
"Knudson confronted the defendant about the two companies and he denied owning the companies," court records state.
Upon inspection of the investment property on Buena Vista Boulevard in Vero Beach, police determined that "no materials were purchased and delivered to the investment property and no labor was performed."
Court papers state that when investigators attempted to interview Burklew, he said he had an attorney, but the case record does not list a notice of appearance of a defense attorney for Burklew.
Burklew Real Estate is a family owned business established more than 100 years ago by Burklew's great grandfather. Brian Burklew has been involved in real estate since 1988. 
Staff Writer Federico Martinez contributed to this report.