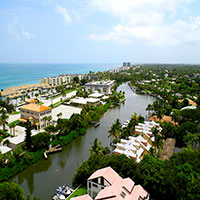 Can an inflow of ocean water clean up Bethel Creek?
STORY BY NICOLE RODRIGUEZ
Photo: A view of the north end of Bethel Creek, which is an offshoot of the Indian River Lagoon.

County commissioners are hoping to persuade a Melbourne-based university to study whether flushing a stagnant and dirty offshoot of the Indian River Lagoon with ocean water can clean up the perpetually murky mess.
The commission voted 3-2 to ask Florida Institute of Technology to include Bethel Creek as one of the study sites in a research project intended to determine if polluted areas of the lagoon far from inlets can be cleaned with an inflow of ocean water.
The university was awarded $800,000 by the state legislature for the project.
Commissioner Tim Zorc is behind the charge to clean the notoriously noxious dead-end area of the lagoon located in northern Central Beach. When he ran for county commission in 2012, ridding Bethel Creek of its stale, murky water by opening some type of connection with the ocean was a prominent part of Zorc's platform. 
Talks about how to refresh the creek ramped up in 2017 after a sewage main along State Road A1A burst, dumpling roughly 3 million gallons of raw sewage into the creek that November. Minimal tidal flushing in the creek, which is located more than 10 miles from the Sebastian and the Fort Pierce inlets, left the water dirty for months.
"This is something I've been passionate about for a number of years, but it's always come down to the money," Zorc said, noting that seagrass in the creek has died off while water visibility has greatly diminished. Now that funds are available for research, Zorc is hopeful the university will choose Bethel Creek as a study site.
The votes against asking FIT to select Bethel Creek came from County Commission Chairman Bob Solari and Commissioner Joseph Flescher.
"This is just a process of pushing more of the pollution out into the ocean," Solari said. "The oceans are damaged enough as it is. We've got limited resources and I'd like to see our limited resources actually be used to remove pollutants from the water rather than push them somewhere else."
Zorc is optimistic scientists will conclude that installing a series of pumps to flush Bethel Creek with ocean water will work like it did in Destin in Florida's Panhandle, where the city's filthy, ecologically damaged harbor was brought back to life. Pumps were used around the clock until the harbor was cleaned up; now the system is used only when water quality deteriorates, Zorc said.
Representatives from FIT say researchers, who are considering locations in Indian River and Brevard counties, have yet to choose study sites in either county. The first phase of the study will gather data on existing water quality, biological parameters and hydrologic conditions at one or more potential locations for future temporary inflow test structures, Florida Tech spokesman Wes Sumner told Vero Beach 32963.
"Florida Tech welcomes any suggestions offered by the Indian River County Commission," Sumner said. "[But] it's too early in the planning process to make any commitment regarding Bethel Creek as a study area."
The university also is in the process of developing the research timeline, Sumner said, adding the number of study sites is still uncertain. At the conclusion of the pilot program, researchers will have a better idea of further appropriate steps for cleaning the lagoon, Sumner added.