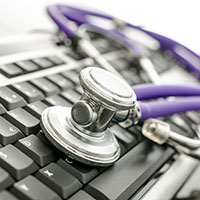 Computer crash forces doctors to cancel entire week of appointments
STORY BY MICHELLE GENZ

Hundreds of island residents had their doctors' appointments canceled last week after a computer crash almost completely shut down Primary Care of the Treasure Coast, the largest independent medical practice in the county.
Starting Friday, June 28, and stretching into the Fourth of July weekend, the patients of Primary Care's 19 providers were notified that their appointments had been canceled and could not immediately be rescheduled. That included school physicals, wellness checkups and ailments that could wait a week.
Doctors did see patients with acute problems, said Primary Care's CEO Mike Luton. But for the first two days, they weren't able to log in on their laptops to review the patients' records. They also couldn't enter notes from the visit into the system.
The crash, which shut down access to everything from lab reports to medical records, was due to a hardware malfunction, and was not the result of a hack or ransomware, Luton said. There was no breach of data, he added. 
Luton blamed the crash on a failed disk array, a storage system that distributes data across multiple disk drives. "It went back and corrupted all of our servers," said Luton. "We had backups so nothing was lost, but we had to rebuild everything."
By the end of the week, with technicians working remotely, receptionists were cautiously rescheduling missed appointments for this week, trying not to overbook in case the system was still down. That was according to one staffer who declined to be named.
By Friday, Luton said the practice was "95 percent up," with only accounting and payroll still to rebuild. "We weren't open on the Fourth of July, but we were working on restoring things through the holiday."
Among the top priorities for Luton was to get the patient portal up and running so that patients could transmit messages to their doctors.
The patient portal was set up in 2010, according to Primary Care's website. The business has been using electronic medical records and e-prescribing since 2006.
Today, the practice sees 28,000 patients, Luton said. He could not estimate how many visits had to be canceled due to the computer crash.
On average, primary care doctors see about 20 patients a day. If 10 of the groups physicians were scheduled to work last week, that could add up to 800 canceled patient visits over the course of the four-day holiday week.
At $150 a visit, that would equal a loss of more than $100,000 in revenues.