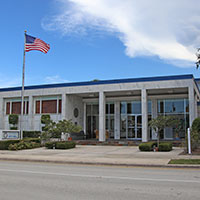 Council considers building new City Hall at Centennial Place
STORY BY NICOLE RODRIGUEZ

What started as a casual, joking remark about relocating Vero Beach's nearly 60-year-old, deteriorating City Hall could become a reality.
A conversation among City Council members at a budget workshop earlier this month about the need for more than $1 million worth of repairs and renovations to the aging, partially vacant municipal headquarters, located at 1053 20th Place, took a serious turn as a majority of the council agreed with Councilman Robert Brackett when he joked that constructing a smaller building elsewhere could be more cost effective.
"Why don't we postpone the roof work and build a new City Hall?" Brackett quipped after hearing a new roof for the old building could cost between $750,000 and $1 million.
The rest of the council agreed with Brackett and asked City Manager Monte Falls to scout for a new location, potentially at the former postal annex on the 35-acre riverfront property at 17th Street and Indian River Boulevard known as Centennial Place.
"When that gets developed, maybe City Hall is a smaller structure in a smaller space over there and maybe we don't want to spend money on rebuilding a $900,000 roof," Mayor Val Zudans said of potentially relocating to Centennial Place.
"It's actually an interesting idea, because as I walked through City Hall, there is a lot of empty space," Zudans also said. "There are a lot of empty rooms in here and it's because the government was significantly bigger in the past."
Falls agreed to research whether Centennial Place could be an appropriate location for a new City Hall.
"We'll take a look at the footprint of what's left over there on the old postal annex site – one of the pieces of property at the west side of the Alma Lee Loy bridge – and see how much room's going to be left and see if something like a City Hall would fit," Falls said.
City Hall, constructed in 1962, is approximately 42,000 square feet and is underutilized, city officials said. The east wing of the building was added in 1973. The latest renovations occurred nearly 20 years ago in 2000 when Council Chambers was refurbished with new audience chairs, a carpet, wood on the walls and a new dais. Besides a new roof, the building needs new carpeting estimated to cost about $60,000, city officials said.
The council in June decided to seek the help of an outside consultant in devising a plan for the redevelopment of Centennial Place, which consists of the defunct electric power plant site, former postal annex and the site of the wastewater treatment plant, which is slated for relocation.
At its June 18 meeting, the City Council authorized city staff to negotiate the terms of a contract with Miami-based DPZ CoDesign for consulting services to redevelop the prime waterfront real estate, which is owned by the city.
With the aid of outside experts, the city could potentially formulate a plan for the property in time for a November 2020 referendum, allowing voters to approve or disapprove of various development proposals, Brackett said, noting that voter turnout would be greater during a presidential election year. Staff is expected to report on negotiation efforts with the firm at an upcoming city council meeting.