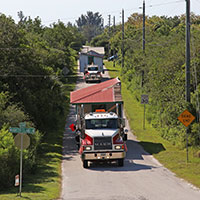 Laura Riding Jackson house is on the move, heading for new home
STORY BY SAMANTHA ROHLFING BAITA

History was on the move last week as sections of poet Laura Riding Jackson's 110-year-old Florida Cracker house left the Environmental Learning Center on the Wabasso Causeway, where it has been located for 25 years,  and headed for what will likely be its "final resting place" on the Vero Beach campus of Indian River State College.
The fragile structure had been painstakingly disassembled over a period of weeks. On the morning of the move, "a bedroom; portions of the front porch and a study, the back porch with kitchen; and the smaller part of our pole barn" were loaded onto three tractor trailers, said Laura Riding Jackson Foundation Board member Jacque Jacobs.
The tractor trailer convoy began its 11.6-mile journey around 10 a.m., escorted by Indian River County Sheriff's deputies with lights flashing, "four of our board members' vehicles and Eric Crockett of Proctor Construction," Jacobs added.
The route was carefully planned to avoid as much traffic as possible, rolling west on the Wabasso Causeway, across U.S. 1 onto CR 510 to 58th Avenue; then south on 58th to 77th Street; west on 77th to 66th Avenue; south on 66th across State Road 60 to College Lane; and east on College to the campus, to a .71-acre site in the field behind the Brackett Library that will be the historic house's new home.
Last week's move was the first of a two-part relocation process scheduled for completion this weekend.
"We're expecting the second floor to be lifted off the house at the ELC on Friday, July 12, and a temporary plywood covering placed over the remaining first floor to prepare it for travel," said Jacobs. "Final preparation will occur on Saturday, and then the larger part of the pole barn and the remaining two parts of the house will begin their journey at dawn on Sunday, July 14."