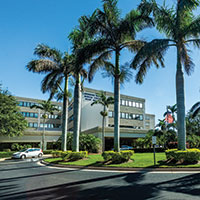 Lawnwood undertakes $100 million expansion
STORY BY MICHELLE GENZ

Lawnwood Regional Med-ical Center is getting a major infusion of funds that could speed up construction of its Vero Beach freestanding emergency department.
HCA East Florida is allocating more than $100 million to Fort Pierce's Lawnwood Regional Medical Center that will significantly expand the hospital's surgery department, add an adolescent behavioral health program and fund the $10 million emergency department in south Vero, a project currently under construction on U.S. 1 near Oslo Road.
Lawnwood, a Level II trauma center with neonatal and pediatric intensive care units, shares part of its market with Cleveland Clinic Indian River and to a lesser degree, Sebastian River Medical Center, owned by Steward Health.
Lawnwood's new Vero emergency room seems destined to siphon off patients from Cleveland Clinic Indian River, if not Sebastian, which is further to the north.
It's unclear how much the rest of the improvements will affect consumer choices in healthcare, with Sebastian River nearing completion of a new patient tower and Indian River having recently completed renovation of half its patient rooms, with $250 million more in the pipeline from Cleveland Clinic, slated to be spent on improvements over the next decade.
"This major expansion project will allow us to continue to be the hospital of choice for years to come," said Lawnwood CEO Eric Goldman in a press release. "HCA East Florida continues to invest in our communities and is committed to doing what is right for our patients. The most recent expansion will help us remain a leader in healthcare and reinforce our commitment to provide superior patient-centered care."
Plans are to add three new operating rooms and 32 beds to the medical surgical unit and triple the size of the existing pre-operative and recovery areas. Currently Lawnwood is the largest hospital in the area, with 380 beds, about to become 424 beds when the project is completed.
Twelve of those extra beds will make up a new adolescent inpatient unit at Lawnwood Pavilion, which houses the hospital's behavioral health center. That unit, with private and shared rooms, a swimming pool and gym, is expected to open later this month.
The freestanding emergency room was approved by the county last year for a property just north of Oslo Road on the site formerly occupied by the Quilted Giraffe restaurant. It is Lawnwood's first venture in Vero Beach and the first such facility in the area.
The 11,000-square-foot structure built by Proctor Construction will include 12 beds, a trauma bay, pediatric rooms and a psychiatric safe room. Patients will have access to an on-site 32-slice CT scanner, a mobile ultrasound and X-ray machine. There is also an ambulance bay.
Freestanding emergency departments have been a focus of HCA's Florida operations over the past decade, as have urgent care centers.
HCA was among four finalist health systems who competed to take over the publicly-owned Indian River
Medical Center. HCA, a for-profit system and the largest in the nation, lost out to nonprofit Cleveland Clinic.