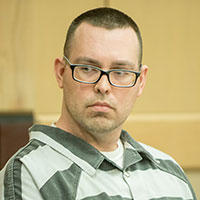 More than 100 may testify in Michael Jones murder trial
STORY BY LISA ZAHNER
Photo: Michael David Jones in court.

Nearly 125 people have been deposed over the past five years as prosecutors and defense attorneys prepare to bring accused killer Michael David Jones to trial for the premeditated murder of 26-year-old Moorings resident Diana Duve.
Jury selection in the trial is set to begin on Oct. 2.
Jones, 36, was indicted by a Grand Jury on Aug. 26, 2014, on a first-degree murder charge, which in Florida could mean the death penalty if jurors find him guilty. Circuit Court Dan Vaughn, who took over the case from Judge Cynthia Cox in January, has set aside four weeks for the proceedings.
In preparation for trial, attorneys have met regularly to argue motions on the admissibility of evidence, limits on the scope of testimony and general procedures.
On July 9, Vaughn filed an order on a defense request that video testimony be taken from Jones' 89-year-old grandmother, to be used in the sentencing phase should Jones be convicted. "The parties further stipulate that Ann McDonald Clark is unavailable and that the testimony is admissible," the order said. "The perpetuation of testimony of the aforementioned witness shall take place in Macon, Ga. at a date, time and place to be determined by the parties."
The trial is taking place here, even though Jones was arrested in St. Lucie County and Duve's body was found in Brevard County, because police say the homicide occurred in Jones' townhouse in Vero Beach.
Duve was last seen in Vero, leaving What-a-Tavern at Royal Palm Pointe with Jones after 1 a.m. on Friday, June 20, 2014. She had been out with friends at several Vero bars the previous evening before reconnecting with her on-again, off-again boyfriend, Jones.
The list of people compelled to offer sworn statements to State Attorney Bruce Colton's attorneys, Public Defender Diamond Litty's attorneys – or both – include Duve's close friends and co-workers, Jones' former co-workers at PNC Wealth Management on Ocean Drive, ex-girlfriends of Jones, doctors and expert witnesses, Jones' family members in Georgia, Jones' former probation officer, and more than three dozen law enforcement officers, crime scene and crime lab specialists.
They also include the cab driver who picked Jones up at a Wendy's in Melbourne near where Duve's body was later found and drove him to Vero.
Assistant State Attorney Brian Workman said the State of Florida intends to call between 50 and 60 witnesses. Assistant Public Defender Shane Manship would not give Vero Beach 32963 a ballpark figure for defense witnesses, saying only "we cannot comment on the case at this time." But the sheer number of people deposed indicates the witness list could top 100 people.
In a relatively small place like Indian River County, a voluminous witness list could make it tougher to find jurors who do not know anyone connected to the case.
Vaughn ruled earlier this year that potential jurors could be interviewed individually away from the rest of the jury pool, but still in open court, about what they have seen, heard or read about the high-profile case, so as to not taint the whole jury pool by airing that knowledge within earshot of fellow potential jurors.
With the criminal case set to begin in about 10 weeks, Jones in a separate civil case filed against Sheriff Deryl Loar, claims that time is running out on his petition for "a vegan or vegetarian diet" to facilitate a religious fast in jail in the time leading up to his trial.
In February, Jones, a law school graduate acting as his own lawyer, sued Loar after Jones' in-house request for the special died was denied. Judge Janet Croom has yet to rule on Jones' request, or to hold a hearing on the merits of his request.  "Petitioner continues to suffer hardships as a result of this court's failure to act," Jones stated last Friday in a hand-written motion asking Croom to rule in the case.
Undersheriff Jim Harpring is representing the sheriff in the case and says that the jail staff will abide by whatever Croom orders, but that the Sheriff's Office has a duty to represent the taxpayers of Indian River County who would pay for Jones' special food to be brought in.