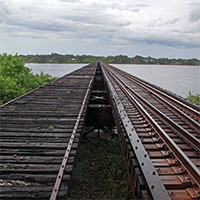 New rail bridge seen diminishing Old Florida ambiance
STORY BY GEORGE ANDREASSI

It's hard to imagine anyone in Indian River County being more affected by the Virgin Trains USA passenger rail project than Tony Wood, whose Roseland home overlooks the historic railroad bridge that has carried trains across the St. Sebastian River for more than 90 years.
Construction could start by the end of the year on a massive concrete replacement bridge and a second track to handle the addition of 32 passenger trains per day to the roughly 20 freight trains that pass his house daily.
Wood is among the Roseland homeowners who fear the modernization of the railroad bridge and tracks will diminish the Old Florida ambiance of their rustic, heavily-wooded, riverfront community.
"This is what drew us to the area; it's still kind of Old Florida," Wood said last week in the backyard of his home on 83rd Avenue. "The old historic Flagler bridge jibes well with that theme. Certainly this new Virgin railway doesn't."
The natural beauty of the river and peacefulness of the historic community near Roseland Road outweigh the noise and vibrations from existing freight train traffic, several homeowners said.
"It's noisy, but what are you going to do about it?" said Gene Hayden, whose 83rd Avenue home is just across the tracks from Wood's house. "I love the river out there. It's quiet, peaceful. That's the main thing."
Virgin Trains plans to construct a new railroad bridge across the St. Sebastian River in the next two years as part of the track improvements needed to provide passenger service between Orlando and Miami.
The existing 1,625-foot-long steel bridge, which was built in 1926, is slated for demolition, federal records show.
Passenger rail service between Orlando and Miami is expected to start in 2022, according to Virgin Trains. Passenger service between Miami and West Palm Beach started in May 2018.
Hayden, Wood and several other Roseland homeowners said they made peace with the railroad long ago and resigned themselves to coping with the new bridge construction and passenger trains.
Other homeowners along the railroad tracks like the Florida East Coast Railway freight trains. They are looking forward to the construction of a new railroad bridge and establishment of passenger rail service.
Pauline Talbott's parents built their home next to the tracks on 133rd Place in 1970 and she's enjoyed living there ever since. Talbott said she's never had any concerns about the freight trains.
"The train track is my backyard," Talbott said. "I was 3 years old watching them go by, so it was normal."
"It's funny because when people come to visit they say, 'How can you live with the train?'" Talbott said. "What train?' We don't even hear it anymore."
Some in the neighborhood are concerned about pedestrian safety as people take a path across the railroad tracks to get from one side of 83rd Avenue to the other, said Maria Capps, whose 133rd Court house is about 50 feet from the tracks.
Walking across the tracks will get more dangerous once passenger trains start racing by at 110 mph, more than twice the speed of the freight trains, people in the neighborhood said.
"Our main concern is, once they put in that high-speed train, how many people are going to be get hit by the train," Capps said. "There's a lot of foot traffic, especially in the winter. It's all day long."
People sometimes venture out onto the railroad bridge, despite the obvious danger, Capps and her neighbors said.
While some Roseland residents said they'll miss the view of the 93-year-old railroad bridge, others said the structure has outlived its useful life and should be replaced.
"It needs to be gone," Hayden said. "You'll be sitting out there in a boat when the train comes over, and rust falls on your head."
The new railroad bridge would be "a blessing in disguise" and "safer" because of advances in engineering and technology, Talbott said.
Wood said he is not looking forward to the construction of the new railroad bridge and tracks next to his house, but doesn't see any point to opposing the project.
"I'm going to miss the bridge. It's kind of rusty but it grows on you," Wood said. "I'm worried about losing the look of this bridge. I think we're going to have a modern, concrete, monolithic structure."
Wood, a fishing enthusiast, said he had no idea there was a possibility of passenger rail service coming to the FECR tracks when he bought his house with a dock on the river in 2010.
"I'm a business guy. I knew what I was getting into here when I moved here," Wood said. "You live next to a railroad track, it's their property, they can do whatever they want. I just would not have ever anticipated this whole business plan would've arisen in this location."