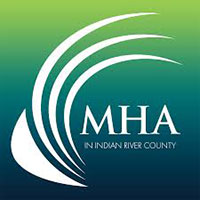 School anti-violence program will be expanded in the coming year
STORY BY MICHELLE GENZ

A dogged effort by leaders of the Mental Health Association has resulted not only in renewed funding but expansion of a school anti-violence program that proved successful in its first year.
Dr. Nicholas Coppola, who took over as CEO of the Mental Health Association in January, and his clinical director, Jeanne Shepherd, shared the news Friday morning with the school district's mental health facilitator, Dr. Sharon Packard.
The program in the coming year will be expanded to reach nearly three times as many county students and will include a suicide prevention component.
"We had a great meeting with Dr. Packard," said Coppola.
That was in stark contrast to a meeting earlier in the week when Coppola went before the Indian River County Commission to make a last-minute plea for funding after the program was turned down by the county's Children's Services Advisory Committee.
That volunteer board, which met last month over the course of three days, had voted not to recommend funding for the program, questioning among other things why the school district wasn't funding the program.
The same issue nearly quashed the program's pilot effort last year, when Coppola sought funding through the Hospital District. In the end, the district granted the Mental Health Association $75,000 to counsel ninth-graders at Vero Beach High School and Sebastian River High School on how to prevent tragedies like the Valentine's Day 2018 shooting at Marjory Stoneman Douglas High School in Parkland, Florida.
Seventeen students and staff members were killed that day in the deadliest high school shooting in U.S. history when an expelled student returned to campus armed with a semi-automatic rifle.
The next day, at a Hospital District meeting, Trustee Ann Marie McCrystal asked Robert Brugnoli, who was then CEO of the Mental Health Association, to come back to them with a program to help prevent school violence here.
After a late start, the 10-week program was initiated this spring, with some 950 students getting training in violence prevention and awareness. Of those, 21 sought counseling.
The program ended up using only $45,000 of the $75,000 allotted.
This time, the program will cost the same amount – $45,000 – but will address suicide prevention as well as school violence. And it will reach far more students, almost 2,800, according to Coppola, and will be taught in 10 schools instead of two.
The program will be expanded to include sixth-grade students as well as ninth-graders. The coursework, taught by Mental Health Association clinicians, will be included in the public schools' Life Skills classes, as it was this past spring.
Coppola will be able to reach more students this year for the same amount of money in part because the program will use a different curriculum, Erica's Lighthouse, which is available at no cost. The curriculum used last year required a fee.
Coppola decided against approaching the School Board for funding after hearing it had depleted a fund carved out of the state budget in the wake of the Parkland shooting. That fund put more police officers in schools as well as additional counselors.