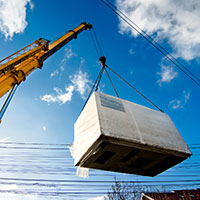 Two local nursing homes don't have generators for hurricane season
STORY BY MICHELLE GENZ

As the season's first hurricane made landfall on the Gulf Coast last weekend, two Vero nursing homes – Sea Breeze and Consulate – were months away from completing a state-mandated emergency power plan that includes installation of a backup generator able to cool the entire facility for 96 hours.
Another nursing home, Florida Baptist, was still installing weatherproofing around the already-installed generators. And an assisted living facility, Harborchase, was waiting on the registration of its fuel tank so that diesel could be delivered to its portable generator.
The state began requiring backup power in nursing homes in the fall of 2017 after a dozen residents in a Broward nursing home died due to heat after Hurricane Irma knocked out electricity for three days.
According to state figures, Vero's six nursing homes house close to 500 people. More than 1,000 others live in the county's 21 assisted living facilities. Independent senior living facilities are not included in the new law requiring backup power.
Currently 78 percent of residents in Vero Beach nursing homes and assisted living facilities are assured of staying cool in a power outage, which puts Indian River County well ahead of some surrounding counties.
In St. Lucie County only 40 percent of residents are protected by backup power, while in Martin County 62 percent of residents live in facilities that meet state requirements.
In Broward County, home to the now-closed Rehabilitation Center at Hollywood Hills, where the loss of air conditioning over three days during Hurricane Irma caused the deaths of a dozen elderly residents, only 42 percent of residents are protected by backup AC.
Statewide, 70 percent of nursing homes and assisted living facilities are in compliance with state regulations.
In Vero, Sea Breeze, a 110-bed nursing home formerly known as Atlantic Care and Rehab, and Consulate of Vero Beach, a 159-bed nursing home, still don't have the required fixed generator installed, despite four extensions from the state's Agency for Health Care Administration, or AHCA, since the mandate for backup AC went into effect more than a year and a half ago with a 60-day deadline.
In late June, both Consulate and Sea Breeze received extensions until December.
Consulate's executive director, Nicole Jordan, did not return phone messages. But in documents on the AHCA website, Consulate's designers, electricians and construction contractors offer a long list of excuses for non-compliance, including delays up to four months to get utility companies to change out power meters and four to five months to get a fuel tank delivered.
Sea Breeze's most recent appeal for an extension included a letter from a generator installation contractor blaming AHCA inspectors, saying "differences of opinion" with the contractor's engineers caused numerous delays; future delays could be expected from local government as well.
In making a case for another extension, Sea Breeze's executive director Kenneth Ragin said Sea Breeze also has portable AC units that can run on its existing generator. And the contractor claimed in a May 7 letter filed with AHCA that he would able to supplement that with more generators he could access around the state.
So far, no facilities in the county have been fined over the new regulations. But just a day after AHCA granted Sea Breeze its fourth variance, it slapped the nursing home with a $1,000 fine that goes back to August 2018, when an inspection found the nursing home did not have a disaster plan with the county. A month later, it still had no such plan approved, triggering the just-imposed fine.
That infraction got Sea Breeze placed on the state's nursing home watch list.
A third nursing home, Florida Baptist Retirement Center, has its generator in place. But AHCA inspectors found the weatherproofing of the generator's enclosure inadequate. Florida Baptist, which has already won approval for a separate generator for its assisted living component, was finishing up the stucco of the enclosure last week and considers both facilities to be "absolutely in compliance," according to executive director Gretchen Ward.
As for assisted living facilities, only Harborchase of Vero is past the state implementation deadline, though its existing portable generator is acceptable to AHCA because the facility is in the primary evacuation zone and would be emptied should a hurricane head for Vero,
AHCA hasn't signed off on Harborchase's emergency plans because the state's Department of Environmental Protection has yet to authorize the fuel tank's registration.
"You have to have a registration number to get product delivered," said Tim Reidy, director of development for Harbor Retirement Associates, the Vero-based headquarters of the national senior living chain. Normally, he says, DEP approval takes about a day. So far, it's taken more than three weeks.
"This is the last thing we have to do," Reidy said. "We've actually had all our equipment since May."