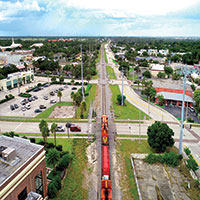 Virgin Trains faces challenge with downtown crossings
STORY BY GEORGE ANDREASSI
Photo: Work on reconstructing rail crossings in downtown Vero for high-speed trains is expected to start late next year.

Virgin Trains USA plans to start major reconstruction work on railroad crossings and tracks in downtown Vero Beach for its higher-speed passenger rail service late next year, city officials said.
Designing crossings to minimize traffic delays on U.S. 1, which is just 6 feet from the railroad right-of-way in some spots, is a crucial aspect of the project, said City Manager Monte Falls.
The addition of a second track in the Florida East Coast Railway right-of-way will require Virgin Trains to build up the track bed and widen the railroad crossings to the west, Falls said in an interview last week.
The crossings should be designed to reduce the slope between the railroad right-of-way and the roadways, particularly at 23rd and U.S. 1, Falls said. That would lessen the chances of a tractor trailer getting hung up on the crossings – something that happened recently when a car carrier blocked the tracks for an extended period.
In addition, Virgin Trains should install fencing along the east side of Pocahontas Park to keep children from wandering onto the tracks, Falls said.
"We want to make sure if this thing comes to reality that we've done all we can to make it a project that has the least impact we can on our community," Falls said.
Vero Beach public works officials have been working with Virgin Trains officials on details the construction plans for the crossings, Falls said.
Virgin Trains anticipates operating 32 passenger trains a day through Indian River County at speeds up to 110 mph starting in 2022 as part of its Miami-to-Orlando service. The company started service between Miami and West Palm Beach in May 2018.
The construction on the FECR right-of-way in downtown Vero Beach is expected to start in late 2020 or early 2021, Falls said.
Virgin Trains is likely to need right-of-way permits from Vero Beach and Florida Department of Transportation to work outside of FECR property, Falls said.
Construction work at the crossings is not expected to cause traffic headaches downtown, Falls said. Only one crossing will be worked on at a time and detour routes will be clearly marked.
However, congestion on U.S. 1 could get worse once 32 passenger trains join the daily freight train traffic because of the lack of right turn lanes from U.S. 1 southbound onto the westbound crossings, Falls said.
When motorists stop in the right lane of U.S. 1 southbound, waiting to turn west and traverse a crossing, only one through lane remains for southbound traffic, Falls said. There is not enough room between the railroad tracks and U.S. 1 southbound to construct right turn lanes at the crossings. 
U.S. 1's northbound left turn lanes onto the westbound crossings may also back up when trains roll through, Falls said.
But Virgin Trains spokesman Michael Hicks said the passenger trains are not expected to cause traffic jams because the trains are short, and the crossing closures last less than a minute.
"Traffic congestion has not been an issue with Brightline's South Florida operation," Hicks said. The crossing gates are down for three or four minutes for long freight trains.
Virgin Trains representatives are meeting with Treasure and Space coast government officials regarding the construction plans and schedules.
"We are in process of updating all the plan sets, addressing previous comments from local governments and making additional revisions in consultation with FDOT and FRA (Federal Railroad Administration)," Hicks said.
"Virgin Trains continues to work closely with FDOT and FRA to ensure our designs comply with all regulations and achieve the highest level of safety."
Vero Beach public works officials will have a better idea of how Virgin Trains intends to address the public safety and traffic congestion issues once the company provides the final construction plans, Falls said.