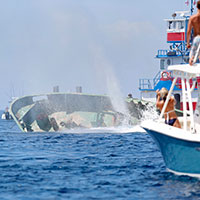 180-foot freighter Voici Bernadette becomes the Treasure Coast's latest artificial reef
STORY BY DEBBIE CARSON

Surrounded by more than 200 boats, the 180-foot freighter Voici Bernadette slipped beneath the surface of the Atlantic last Sunday morning, coming to rest on the sea floor 100 feet below and assuming a new identity as the Treasure Coast's latest artificial reef.
Those who had gathered seven miles out from shore sounded their ships' horns and cheered as the Voici Bernadette  tilted to one side and took on enough water to disappear.
"Everybody was screaming," said Kathy Green, one of the volunteers who had helped raise money to prepare the freighter for life as a reef. "It was insane."
Mark Music, another volunteer, marveled that after a year of prep work, it was done.
"What have we done today?" he asked rhetorically. "We sank a pirate ship!"
The Voici Bernadette, which had sailed under the flags of several nations, ended up in the hands of drug smugglers and was seized by the U.S. Customs and Border Protection. The government transferred the vessel to St. Lucie County last June so it could be stripped and cleaned – then sunk.
Music was one of the last to step foot on Voici Bernadette before she sank. He helped pull off banners while another volunteer took down the U.S. flag.
"It's bittersweet," Music said. "My job is finished."
Though Music's "job" is done, the Voici Bernadette's is just getting started. She will serve as a habitat for marine life and a new dive site for recreational divers. The top of the ship's towers will be 60 feet beneath the surface.
No divers were in the water when Voici Bernadette went down, but there were cameras affixed to the ship to capture footage as it sank. Three drones flew overhead during the sinking, catching the scene from a bird's-eye perspective.
The freighter is expected to quickly become a thriving habitat for a variety of fish and other marine life.
It will also serve as a test site for a lionfish device meant to attract the destructive invasive species so they can be taken by spear fishermen and divers with nets. It is hoped the device can be modified in the future to become a lionfish trap.
Ten-year-old Vivi Pipes watched Voici Bernadette sink. "It was shocking," she said, to see such a large ship sink so quickly. Once it began to settle, the freighter sank in about 10 minutes.
"We've been watching" the process unfold regarding Voici Bernadette, Vivi's mom, Nyla Piper, said. To see how they create a new habitat with the freighter, how it's cleaned up and the location selected, "It's pretty amazing."