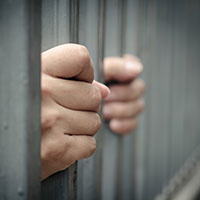 Crowded jail big factor as Sheriff seeks budget hike
STORY BY RAY MCNULTY

Nearly one-third of the proposed $55 million budget Sheriff Deryl Loar plans to submit to the County Commission for the 2019-20 fiscal year is to cover the costs of staffing and operating the county jail next year.
That's $18.1 million – or $867,500 more than his current budget for the jail.
"The Corrections Division is in the shadows of local law enforcement," Loar said last week, when discussing reasons for seeking the increase in funding. "It's not policing the streets. It's not the cruisers, the helicopters and the K-9s. It's not what everybody sees.
"It's like a restaurant," he added. "You see the entrance and the dining room. You don't see the kitchen. You don't see what it costs to run the kitchen."
Likewise, Loar said, most county residents don't see the costs of running his agency's Corrections Division, expenses that include paying the 160-plus deputies needed to staff the 200,000-square-foot jail around the clock, operating a facility that currently houses more than 500 inmates.
Inmates receive three meals per day, must be regularly transported between the jail and the courthouse for hearings, and provided with medical care, which Loar said puts a significant dent in his budget.
"Sick inmates are very costly," Loar said. "We have a medical wing, staffed with nurses, doctors and even mental-health counselors. If they're in our custody and they need medical care, we provide it and it goes on our tab. It doesn't matter if it's a pre-existing condition.
"And we don't deal with just illnesses and injuries," he added. "Right now, we've got seven pregnant female inmates, and last month we had a baby."
The costs skyrocket when inmates require hospitalization, especially if the inmates have been charged with felonies, particularly violent crimes. One such inmate, who is being held at the jail on a murder charge, recently spent two weeks at the Lawnwood Regional Medical Center in Fort Pierce.
"He had a serious medical issue and he was charged with murder, so we had to have two deputies there to guard him around the clock," Loar said.
Loar said he usually negotiates with the hospitals, trying to get Medicare rates or at least substantial discounts.
It's more difficult to get such discounts for maintenance work at the jail, however.
"The facility is more than 30 years old and, because of the constant use, there's a lot of wear-and-tear," Loar said. "It's an all-day, every-day operation. Meals get cooked, laundry gets done, toilets get flushed, electronic doors are opening and closing, and the air-conditioning is running pretty much all the time," he added. "There's a lot of maintenance that needs to be done."
Making matters worse: The jail is getting crowded.
Last Friday, Loar said the jail's population surpassed 500 – up from an average of 460 – and that included 39 "maximum custody" inmates charged with murder (21), attempted murder (8), manslaughter (1), and sexual battery on a child under age 12 (3).
During the Great Recession, Loar said the jail's population soared above 600 and often hit 650, putting a strain on his resources. The bad economy produced an increase in crime and a noticeable drop in the ability of those arrested to make bail.
"We had 14 percent unemployment, so employers weren't there to bond them out and, in many cases, the families didn't have the money," Loar said. "What we're seeing now is different. This is unusual, seeing the jail population increase while the economy is good."
"In March, we were down to 452 inmates; now we're at 506," he added. "Why is this happening?"
Loar attributes the increase – at least partially – to the opioid epidemic, as well as a recent surge in methamphetamine usage. He said nearly 80 percent of inmates were "drunk or high" when they were arrested and booked into the jail.
Seventy percent of the current inmates were unable to post a bond and are awaiting their first-appearance hearings in court. Among that group are homeless people, including some who intentionally get arrested because they want a bed and meals.
"That concerns me," Loar said, "because it's expensive to keep people in jail."
To address that problem, Loar said he plans to implement a pretrial-release program, similar to those currently in use in St. Lucie and Martin counties. He already has discussed the proposal with County Administrator Jason Brown and the 19th Judicial Circuit's chief judge, Elizabeth Metzger.
The program enables judges presiding at first-appearance hearings to allow accused criminals unable to post bail to instead enter a pretrial-release agreement and avoid jail.
The terms of the agreement would likely require the accused to wear an ankle monitors, abide by curfews and, when applicable, submit to drug testing while they are awaiting trial.
Loar said eligibility for the program would depend on the nature of the crimes for which they've been accused and their criminal history.
"It's something we want to try as a means of reducing our jail population," Loar said.
While a pretrial-release program might help, Loar said he still needs the budget increase to operate the Sheriff's Office, including its Corrections Division. But he fully expects to be challenged by county commissioners at their meeting next month.
"They all claim public safety is their No. 1 priority, but funding it isn't No. 1," Loar said. "So July 17 ought to be a great show."