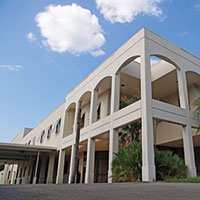 Former Press Journal building eyed as location of specialty grocery store
STORY BY RAY MCNULTY

An out-of-town developer is exploring the possibility of purchasing and re-purposing the former Press Journal building on U.S. 1 to accommodate a niche-type grocery store from a "well-known" chain, the owner of the property said last week.
Bill Summers, who purchased the 42,000-square-foot building and 3.75 acres on which it sits in November 2015, said the developer plans to divide a renovated and restructured building between the grocery store and at least one other retail shop.
He said a confidentiality agreement prevented him from identifying the developer or the grocery store chain, but he hopes to have a contract to sell the property later this summer.
"I can't divulge who it is, but there are grocers and then there are grocers, and this one would be a very good fit in Vero Beach and a big addition to our community," Summers said. "It would definitely raise the level of the shopping experience here."
He said the developer is a "substantial company with the necessary funding and expertise," and already has negotiated 10 leases with the grocery store chain.
"It's going to take a lot of work, time and money to re-purpose the property, but this group understands that," Summers said. "They still need to get a lease signed with the prospective tenant, and I know they're working on it.
"Their construction team, architects and tenant's representatives already have talked to the city about their plans, and everything seems to OK," he added. "So we're making progress, but you never know until they put up the money and make the deal.
"I've had it under contract before."
 Summers, who bought the property at 1801 U.S. 1 from the Journal Media Group for $1.4 million, said he expects the developer to complete its due-diligence process by the end of August.
He said the location of the property is "outstanding," prompting "serious interest" from about 20 potential buyers and offers from six.
"I've had a lot of people call," Summers said, "but I need a commitment, not conversation."
Vero Beach City Manager Monte Falls said the developer, who also has met with Planning Director Jason Jeffries, wants to reconfigure the building to make it smaller and install a new façade.
The developer plans to lease the northern half of the building to a "neighborhood grocer," he said, with the southern half designated for "specialty retail."
Falls said the developer already has had two discussions with city officials and hopes to start construction early next year.
"They do this type of work all over the country and, from what I've seen of their plans, you won't recognize the place when they're done," Falls said. "We're always excited when somebody is willing to re-purpose property. It would be good to get that building utilized again."
Among the niche grocery store chains that could be interested in expanding to Vero Beach is Lucky's Market – a Boulder, Colorado-based company that has been aggressively targeting Florida.
Lucky's operates 41 stores in 10 states, including 21 in Florida, where the company has said it plans to open at least another 12. The chain's closest store to Vero Beach is in West Melbourne, though one is planned for Port St. Lucie.
The Press Journal abandoned its one-time flagship building in June 2015, amid plummeting circulation, shrinking staff and a continuing consolidation of newspaper operations in Stuart.
The remnants of its newsgathering and advertising staff moved into a second-floor office in the Seminole Building downtown. By then, the company had long since relocated its printing presses to St. Lucie West.