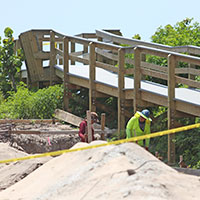 Human skeleton found in the Shores still a mystery
STORY BY LISA ZAHNER

A near-complete human skeleton that stopped work at an Indian River Shores construction site three weeks still is a total mystery to police, with no ready answers from lab scientists or state archaeology officials.
The developer of Blue at 8050 Ocean, a luxury condo project north of The Carlton, got the go-ahead June 14 to resume work on most of the site, except the immediate area where the remains were unearthed on June 5. Crews were back on the job June 17.
Indian River Shores Public Safety Chief Rich Rosell said his agency was told last Friday by state officials that the preliminary report on the old bones would not be ready before the end of the month. Rosell said nothing else related to the remains has been found.
"We went out there and searched the whole area with a metal detector to see if we could find anything – a button or buckle or a doubloon, anything that would help to date the remains – and we found nothing," Rosell said.
Project developer Yane Zana said he spoke with Katie Miyar, assistant to the State Archaeologist of Florida, who was very helpful. "She said the state has no jurisdiction and that her main interest is the proper handling of the remains and where they will end up because that person is someone's long-ago relative," Zana said.
Sarah Revell, spokesperson for the Florida Department of State, under which the state archaeologist operates, confirmed that local law enforcement and the regional medical examiner, not the state, are the lead agencies. "It's still considered an active investigation," Revell said last week.
That's where the case status will remain while a determination is being made whether the remains are less than – or more than – 75 years old.
If scientists date the bones at older than 75 years, they fall under the category of "archaeological interest," and a process laid out in Florida Statute regarding unmarked graves will dictate what happens next and who takes jurisdiction over the remains, depending on the outcome of tests to determine the age and origin of the nearly complete human skeleton.
The day after the find, Rosell had reported that crime scene technicians said vaguely that they suspected the bones were "very old." He said the remains have become a local curiosity in the Shores, which is typically a pretty low-key place during the summer.