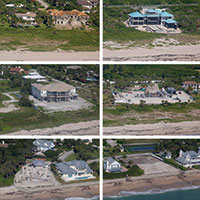 Island in midst of luxury oceanfront building boom
STORY BY STEVEN M. THOMAS

If more proof is needed to demonstrate the growing appeal of Vero Beach, at least 14 major estate homes are under construction or about to break ground along the barrier island oceanfront – the most in memory.
Spread out from Ambersand in the north to the southern edge of the 32963 ZIP code area, the houses range up to 20,000 square feet and have an approximate total value of $150 million, based on listing prices, recent oceanfront sales and expert estimates.
"I don't think there have been this many estate homes under construction simultaneously in my 38 years selling local oceanfront property," says Michael Thorpe, whose brokerage Treasure Coast Sotheby's International Realty handled land transactions for two of the 14 projects.
Several are builder spec houses but most are custom homes being built for the families who plan to reside in them.
"The oceanfront has always been the most desirable property since we have been in the business," says Dale Sorensen Real Estate broker Matilde Sorensen, whose company was founded in the 1970s and who sells many of the most high-end oceanfront properties on the island.
"As our market has grown so has the wealth that our area attracts. With that growth we are seeing larger homes built on our county's waterfront which is consistent with markets like Naples and Palm Beach. Homes that are in the $10-million-plus category can elevate the values of the entire market."
"It is a phenomenon," adds Premier Estate Properties broker-associate Cindy O'Dare of the oceanfront building boom. "I think there is more on the way." O'Dare and her partner Richard Boga are leading oceanfront brokers.
Starting in the north, the first of the 14 homes is an 18,800-square-foot residence being built by lottery winner Barton Buxton. Located two miles south of the Sebastian Inlet, the house stretches for 120 feet along Highway A1A, has seven bedrooms and nine bathrooms, and sits on a 1.45-acre ocean-to-river lot purchased in August 2015 for $2.175 million.
Treasure Coast Sotheby's broker-associate Janyne Kenworthy pointed out that a newly-built home on a water-to-water lot in Ambersand recently sold for $778 per square foot. At that rate, Buxton's house would be worth approximately $14.7 million if it was put on the market when it is complete.
Heading south, Windsor comes next, where Marketing Director Jane Smalley says there is a "home under construction on the ocean and another one starting soon."
Details of those homes were not available at press time but the houses are on Eton Way, where lots are currently on offer for between $3.4 million and $4.2 million, and where an existing oceanfront home is listed for $10.5 million.
Next comes a spec home about to get underway in the exclusive North Shore subdivision, next to the Disney Resort.
North Shore developer Yane Zana said the house on lot 5 will include 7,200 square feet of air-conditioned living space and have 11,500 square feet under roof. Designed by Atelier d'architecture and built by Zana's company Coastmark Construction, the 5-bedroom, 7-bath house sits on a 1-acre lot with 100 feet of ocean frontage and has a pre-completion listing price of $6,995,000.
A little further south in John's Island, there is one oceanfront home under construction and another for which plans have been submitted to the town of Indian River Shores that will get underway when the building permit is issued, according to John's Island Real Estate broker Bob Gibb.
The house under construction at 676 Ocean Road is only 5,000 square feet under air, with 7,000 square feet under roof, according to public records, relatively small for a new oceanfront home on the island.  But it is being built by well-know Vero builder Vic Lombardi, owner of Waters Edge Estates, so it will undoubtedly be rock-solid and beautifully finished.
The architect is Gregory Anderson, PA, and the engineer is Schulke, Bittle & Stoddard, the dominant Vero firm that engineers most oceanfront homes on the island, including many of those now under construction.
The home sits on a 1.72-acre lot with 130 linear feet of ocean frontage that was purchased for $4,050,000 in June 2018.
Gibb calls the abundant crop of oceanfront houses going up on the island "good news for Vero Beach."
Next comes the magnificent compound under construction at 2310 Ocean Drive, one lot north of the Riomar Country Club golf course. The Greenlee family purchased the beautifully situated 1.7-acre lot for $8,875,000 in 2016, and the 17,400-square-foot home, which comes with two swimming pools and three guest houses, got underway a year and a half ago.
The house was designed by Jackson Kirschner, Architects and is being built by The Hill Group. Matlide Sorensen handled both sides of the land transaction.
Yet another impressive estate home is going up on the south side of the country club, on a prime 1.51-acre lot that overlooks both the golf course and the ocean. The Pyles family bought the lot at 1930 Ocean Drive for $4.4 million in January 2018. A building permit was issued in September and the house is now well along in the construction process.
The residence, which has 5,330 square feet of air-conditioned living space and 14,531 square feet total, including what the plans call 6,148 square feet of unfinished basement, was designed by Harry Gandy Howle, Architect and is being built by Reilly Construction and Development. Treasure Coast Sotheby's agent Rory O'Dare handled both sides of the land transaction, according to Michael Thorpe.
A few miles south, at 1925 Sears Cove across from The Moorings, a 14,369-square-foot house that is nearly complete is being built for Denis and Jennifer Manelski on a 1.51-acre oceanfront lot they bought for $6 million in August 2016. A building permit was issued in 2017. The home was designed by Village Architects out of Tequesta, Florida, and is being built by Connecticut builder SBP Homes.
A few blocks away at 826 Reef Road in the Floralton Beach neighborhood, Regatta Building and Development is completing a 7-bedroom, 8,626-square-foot home for the Pruskowski family that sits on a 1.52-acre lot with 153 feet of ocean frontage that was purchased two years ago for $3.3 million.
Just down the street at 650 Reef Road, Yane Zana has begun a luxurious oceanfront residence for Dawn Howarth. The home, designed by Atelier d'architecture and built by Coastmark Construction, will have 8,500 square feet of air conditioned living space and 12,000 square feet under roof. There will be 6 bedrooms, 6 full baths and 3 half-baths. Howarth purchased the 1.04-acre lot with 100 feet of ocean frontage for $1,925,000 in August 2017.
A few miles south in an area once called the Kansas City Colony, Lavelle Construction is building a dramatic high-tech modernist house for the Lombardo family on a 5.1-acre lot with 300 feet of ocean frontage.
Only a few years ago, many realtors snickered at those who referred to the Kansas City Colony as Vero's Estate Section.  Now, it is commonly referred to this way.
Lombardo bought the parcel at 2020 S. Highway A1A from Beachlen Development for $7.95 million in June 2016 and the shell is now going up. The home was designed by Barnes Coy Architects of New York City and engineered by Schulke, Bittle & Stoddard.
A few doors south, at 2120 S. Highway A1A, what appears to the largest house underway on the island is being built for Trace McCreary. Designed and built by Orlando architectural and development powerhouse Phil Kean Designs, the house sits on a 3.44-acre double-lot with hundreds of feet of ocean frontage that McCreary picked up for the bargain price of $2,570,000 in 2015 and elevated with 13,000 cubic yards of fill.
With approximately 20,000 square feet under roof, this house, like all of the oceanfront homes under construction on the island, rests on a forest of steel-reinforced concrete pilings extending 40 feet or so below grade. It has bedrooms and baths galore, extensive balconies and terraces overlooking the beach and three interior staircases.
A mile or so south, just across the county line, the shell of the 14th home on the list is complete at 6600 N. A1A.  Designed by Vero architect Tom Hoos and built by Joe Foglia, who is responsible for several of the largest homes built on the Vero oceanfront in recent years, the 10,000-square-foot, two-story, contemporary-style house sits on 1.32-acre lot with 156 feet of ocean frontage.
Stephen and Lisa Basile bought the lot for $1.8 million in August 2016, according to public records. Foglia started the job in June 2018 and expects to be done by the end of the year. Like most of the beachside homes now under construction, this one is designed to take full advantage of the ocean views and will have $750,000 worth of impact-resistant glass when it is finished, according to Foglia.
Cindy O'Dare says a desire to have exactly the home they want is the motivation for many of the people building oceanfront houses in Vero – a thought echoed by Michael Thorpe: "For whatever reason, these people prefer a personalized estate home over a number of existing, quality estates available on the market for sale. They choose to undertake a multiyear build process to get precisely what they want in a new oceanfront home and that is driving the trend."
Lower taxes in Florida and the growing reputation of Vero Beach as a beautiful, sophisticated but still unpretentious place to enjoy seaside living are two other key factors behind the oceanfront building boom, top brokers and builders say.
"With recent changes in the tax code, making Florida your domicile is more and more appealing to our clients," says Richard Boga.
"There's definitely a tax planning strategy," says Thorpe, "with people who could live wherever they chose leaving areas in the Northeast and California, where the state tax is considerable, and coming to Florida, where we have no state tax."
In addition to the 14 single-family oceanfront homes, there is substantial multi-family development taking place on Vero's beachfront.
4091 Ocean, a 5-unit luxury condo on Ocean Drive across from Conn Beach, and 8050 Blue, a development in Indian River Shores, both developed by Zana, are bringing another 60,000 square feet of luxury living space worth more than $30 million to the market, upping the current oceanfront development total to $180 million or more.
4091 Ocean is nearly complete with one unit left for sale, and the town of Indian River Shores just approved a preliminary site plan for 8050 Blue where 3,300-square-foot oceanfront condos with loads of community amenities are available for around $2 million.
"Vero is a Mecca for the best oceanfront living in the state of Florida if not the country," Zana says.