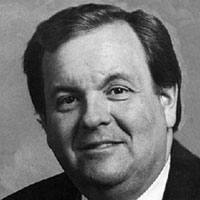 Ken Puttick, longtime auto dealer and developer, dead at 71
STORY BY MICHELLE GENZ

In his last days, Ken Puttick came closer than anyone to bringing the first full-size supermarket to Vero's barrier island. Before that, he nearly brought the first assisted living facility to the island. And before that, Puttick twice proposed residential developments on the same land, a seven-acre tract he bought just east of the Wabasso Causeway.
But it didn't seem to matter what Puttick put before the town of Orchid, where he himself lived. His plans never passed muster; not with residents, not with officials.
Change may come slowly in Orchid, but the town's contest with one of its most tenacious landholders appears to have run the clock. Puttick, longtime area resident, former car dealer, father of four and grandfather of seven, died May 26 at age 71. He had suffered from multiple illnesses over the years, according to the family.
Puttick leaves behind his wife of 41 years, Janine Puttick. They met when she came to Puttick's dealership in New York to buy her first car after college. Puttick took one look at her and told his manager, "I'm going to marry that girl." Janine's decisiveness matched her husband's. After he proposed on their first date, she accepted on the second.
Their affection continued to the end.
"This is my favorite person," Puttick said as he wrapped his arms around Janine in front of his family a few weeks before his death. The tenderness of that moment brought Scott Puttick to tears last week as he eulogized his dad following a funeral mass at Holy Cross Catholic Church.
Puttick's other children include Tyler Puttick, an elder law attorney in Vero; Chelsey Puttick Ucciferri, whose field is marketing; and Tiffany Justice, a member of the county's School Board.
Puttick was a native of Brooklyn and the son of a car dealer. He opened his own dealership, selling Cadillacs, in Hempstead, New York, when he was just 33, becoming the youngest Cadillac dealer in the company's history.
With three of their four children born, Ken and Janine decided to move to Florida. Criss-crossing the state looking at real estate, they found Vero Beach. They moved here in 1987 and started the business he is best known for: Ken Puttick Buick-Cadillac. The dealership, on U.S. 1, was a success.
Son Scott called his dad "a big thinker" who didn't shy away from new ideas or new investments. "He enjoyed taking risks because it helped him learn more about business and life."
In 2003, Puttick sold his dealership to concentrate on commercial real estate. With a just-competed 10,000-square-foot home on the ocean at the height of the real estate boom, he bought the 7-acre investment property about a mile away, paying $3.5 million for the parcel on County Road 510, not far from the Orchid Island Golf and Beach Club.
 A year later, he proposed a mixed-use plan of golf cottages and commercial development similar to one proposed by the owners of the Windsor development when they owned the same parcel. But Orchid turned Puttick's plan down, claiming it required a zoning change to allow residential construction. How was it not residential when Windsor wanted to build it?
"I was mystified," he told Vero Beach 32963.
In 2011, Puttick asked for a zoning change to residential, this time with plans for 40 two-story townhomes. But the town refused to rezone the property, saying they wanted commercial development instead.
In 2015 came his proposal for assisted living. But that became mired in definitions: Was an assisted living facility a commercial venture, or a residence? The town council ruled it was primarily residential, and in 2016, rejected his idea again.
By that point, Publix had already been talking to Orchid officials about building on the barrier island. Orchid town officials gave the idea the thumbs down. But in early 2018, Publix came back to talk about Puttick's location. This time, things got down to details: Publix had a contract with Puttick on the property, contingent on Orchid's approval.
Puttick by choice stayed out of the process, afraid of jinxing it. But when Publix officials presented residents with its plans in January, the Orchid Island Community Association presented results of a survey showing 87 percent opposition among homeowners.
Faced with overwhelming opposition, Publix called off the deal.
After the Publix project tanked, Puttick openly declared Orchid's building code too restrictive for any commercial venture to be viable. "No business can survive with how the code is written," he told Vero Beach 32963.
He cited a state law that lets developers seek relief if a government entity has unfairly restricted a property's use, essentially making it so the investment is impossible to get any kind of return on.
"I don't like controversy, and I try to avoid it when I can," he said. But, he added, "I can't walk away and do nothing."
"My dad was an eternal optimist," said Scott Puttick. "He always thought everything could be bigger and better than it already was."