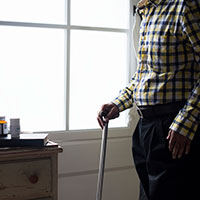 Palm Garden on list of troubled nursing homes
STORY BY MICHELLE GENZ

Vero residents were warned yet again last week to beware of Palm Garden of Vero Beach. The nursing home, part of a large for-profit Florida chain, has been named to a previously secret list of more than 400 problem facilities in the country, all of them with a documented pattern of poor care for their vulnerable residents.
These skilled nursing facilities, deemed "persistently underperforming," are candidates for the Special Focus Facility Initiative, a federally mandated watchdog program administered by the Centers for Medicare and Medicaid Services, or CMS.
Another 90 problem nursing homes are actual participants in the program, which mandates double the number of inspections most nursing homes get. That means on-site surveyors drop in every six months, instead of every 12-15 months.
But Palm Garden and the other 435 candidate nursing homes are not getting that added scrutiny. That's because CMS says there isn't enough funding to get them into the Special Focus program – even though borderline facilities such as Palm Garden are generally determined to be performing as poorly as nursing homes subject to extra inspections.
Despite these serious problems, the borderline status of the 400-plus nursing homes that are candidates for additional oversight is not mentioned on the CMS Nursing Home Compare website.
Up until spring of this year, not even the 90 participants in the program were identified on the CMS website. Starting with the March ratings update, CMS inserted an icon – a yellow triangle with an exclamation point – where a problem nursing home's star rating would be.
To date, there is no icon for candidate facilities like Palm Garden.
Before last week – when Pennsylvania Sens. Bob Casey and Pat Toomey released the secret list of borderline nursing homes – only the facilities themselves were informed of their problematic status. After the release, CMS announced it would begin posting a candidates' list too, though it has not yet said in what format.
The state has its own rating system, run by the Agency for Healthcare Administration, known as AHCA. It is AHCA inspectors who visit homes like Palm Garden unannounced to interview staff, residents and families and review policies, procedures and a sampling of medical records. The results are then used to compare nursing homes to other facilities in the region – Palm Garden of Vero Beach is in a region that runs from Indian River to Palm Beach County.
Palm Garden was awarded a dismal one star out of a possible five on both state and federal websites.
Making the problem of undisclosed watchlists worse for patients and their families, hospitals discharging patients to skilled nursing facilities are not allowed to recommend one facility over another, a measure aimed at preventing referral kickbacks.
The law expects consumers to do their own research, but that saddles families with tough decisions in an emotional time, often with only days to decide.
In the case of Jacqueline Kimball, her mother was sent to Palm Garden after being discharged from Indian River Medical Center – now Cleveland Clinic Indian River. "I don't remember any conferring," she said of the discharge process. "They just found a place for her to rehab at Palm Garden."
Kimball said her mother's care was good when she was in the rehab wing at Palm Garden. "There were some people that were very good to her, and very good to us," she recalled.
When it became clear her mom would not be going home, the family moved her to the facility's long-term care wing. That's when problems began, Kimball said.
"Nobody takes responsibility for anything down there," she said. "They lost her glasses. They've lost her teeth. It's ongoing."
Kimball, a former home health aide who lives in another state, visits her mom as often as she can and has family in town who visit regularly. But problems seem to arise with each visit.
Short staffing is a chronic problem, Kimball says. "Weekends are the worst. They don't even get them out of bed on weekends. In the winter they turn up the heat so they sleep all the time."
Florida nursing homes are licensed annually by the state, and those with enough problems are issued their license "conditionally." But rarely are the licenses revoked.
AHCA records show Palm Garden is currently operating under a conditional license, and has been since January, when an inspection showed filthy conditions in patient rooms; controlled substances not being adequately tracked; and patients generally not receiving adequate and appropriate health care or protective and support services. Palm Garden has been on the state watch list since late 2016.
Palm Garden's executive director, Edwin Rojas, joined the facility in October. Though his most recent posts have been in Port St. Lucie nursing homes, Rojas ran Atlantic Healthcare in Vero for more than 12 years, until 2016. Atlantic is now Sea Breeze, and it too is on the state watch list, though not the federal watch list just released.
Rojas said "no comment" when asked to reflect on the challenges he faces at Palm Garden. In early May, though, he sent a letter to the families and friends of residents that stated:
"We have been reviewing the overall operation of the center and have made some changes to provide greater service and assistance seven days a week. We have added a second assistant executive director to our team. This allows us to provide senior management of the facility from 7 a.m. to 7 p.m. Monday through Friday." He said supervisors' shifts were being rotated to give better coverage on weekends.
In the letter to families, Rojas said that AHCA had inspected Palm Garden four times since February and found no deficiencies. In fact, AHCA shows there were six inspections, five of them involving complaints. Those followed a searing report in early January, available to the public on the AHCA website, that detailed numerous issues with insufficient staffing, lapses in recording and reconciling controlled drugs, and lapses in sanitation, safety and infection control.
The inspector noted multiple instances of prior deficiencies not having been addressed.