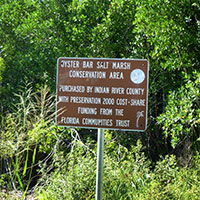 Public access expanding at Oyster Bar Conservation Area
STORY BY NICOLE RODRIGUEZ

Residents and tourists will soon have easier access to more of the natural beauty the barrier island has to offer.
The Indian River County Commission recently unanimously approved spending $194,650 to build boardwalks, piers and improve visitor access to Oyster Bar Marsh Conservation Area. Summerlin's Marine Construction of Fort Pierce is expected to begin construction in the next 60 to 90 days and wrap up in less than six months, county officials said.
"We've made a commitment here in the last couple of years to really move forward on some of our conservation land and putting in public amenities," Commission Vice Chairman Peter O'Bryan said at the board's meeting last week. "We look forward to its completion."
Oyster Bar is a roughly 155-acre conservation area located just north of Round Island Riverside Park between State Road A1A and the Indian River Lagoon. The joint project with the Indian River Land Trust consists of the addition of four boardwalks that connect existing trails and allow visitors a view of the interior marsh. One pier will overlook the lagoon and include an observation deck, according to county plans.
"It's very important for people to have access to publicly-owned lands," said Beth Powell, the county's assistant director of parks and conservation resources. "Right now, there's access, but it's by bike or walking, so you kind of have to make a huge effort to get to the conservation area. You would have to park at Round Island Riverside Park and bike there or walk there."
To date, the county and Indian River Land Trust have invested more than $1 million – $708,000 and $307,428, respectively – for the acquisition of the land, which began in 2001 and spanned 14 years to purchase all the parcels that encompass the conservation area. A portion of the county's investments were covered by state grants, county documents show.
The state and county in 1990 both took measures designed to conserve significant natural resources that might otherwise be developed. At that time, the state Legislature enacted Preservation 2000, a 10-year, $3 billion statewide program for land acquisition for conservation areas.
The county in turn adopted policies in its 1990 Comprehensive Plan resulting in the establishment of the Indian River County Environmental Lands Program, subsequently funded by a 1992 $26 million ad valorem tax bond referendum that has helped purchase land at Oyster Bar and other conservation areas in the jurisdiction.
The Indian River Land Trust contributed $100,000 to design the boardwalks and observation pier. The organization, founded in 1990, is dedicated to saving the lagoon by preserving wildlife habitat, protecting the waterfront and providing access for public recreation and education.
"It's an important project for public access," said Ken Grudens, the land trust's executive director.
"There are a number of small public trails that provide access to the lagoon, but none on this section of the barrier island."
Future improvements to create easy access to the site include a parking lot, more educational signage and landscaping, Powell said. The second phase is expected to begin once the boardwalks and lagoon pier is installed. The county does not yet have a cost estimate for the second and final phase of the project, officials said. Phases one and two could take around 18 months in total to complete, assuming no major storms stall work, Powell said.